Product work is complex. While there are frameworks and best practices, due to its nature, you can only apply the same process in some places.
One can take the best practices, analyze your context, and then define a way of working and responsibilities based on your specific situation. It depends on your company, the kind of products you are working on, and the overall philosophy and mindset you are dealing with.
There are no two situations where teams perform product work similarly.
The most overlaps I have come across are between the product manager and the UX role, and research performed by NN Group also holds evidence of this fact.
In this article, we'll discuss where a responsibility assignment matrix, aka a RACI chart, can be helpful. RACI charts can help you align with your team and stakeholders on roles and responsibilities, while also improving communication and decision-making.
---
Table of contents
---
What is a RACI chart?
The RACI chart, or responsibility assignment matrix, is a tool that helps to communicate and clarify the roles and responsibilities of people working together. In product management, it adds support for alignment and communication in the product development process: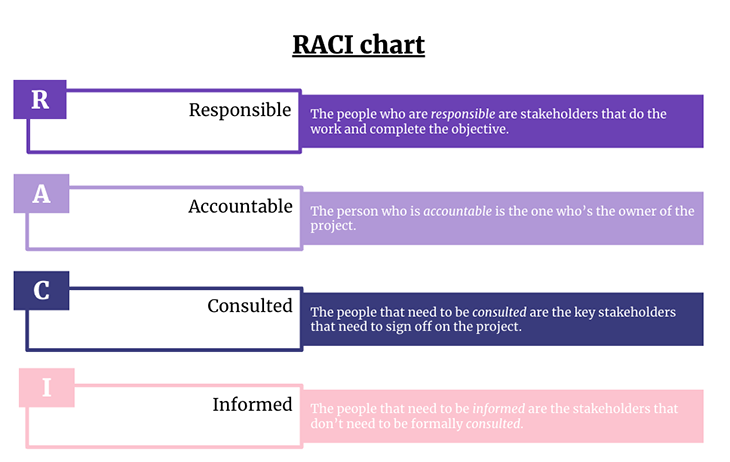 Responsible
This team member is the one responsible for performing the task. Each task needs at least one responsible person, but can also have more.
Accountable
This team member is the one who is ultimately accountable for the outcome and success of the task or deliverable. They may either perform the task themselves (in which case they are also responsible), or they may delegate the work to someone else.
You should only have one accountable team member per task.
Consulted
You can have as many consulted stakeholders as you want. These team members and stakeholders are the ones whose input is required to complete the task. They provide information from their expertise or how the task result may impact their work.
Informed
These team members should stay in the loop. If you were to think of the power/interest grid for stakeholder management, you would consider stakeholders with low power and low interest in this category.
Applying the RACI chart to the product development process
You can apply the RACI chart to the different stages of the product development process. We will use the 4D methodology (discover, design, develop, and deliver) to showcase how the responsibilities can be split between product management, ux design, development team, and product marketing.
Depending on your context, you may also include a delivery manager, who will take over some of the responsibilities of the product manager: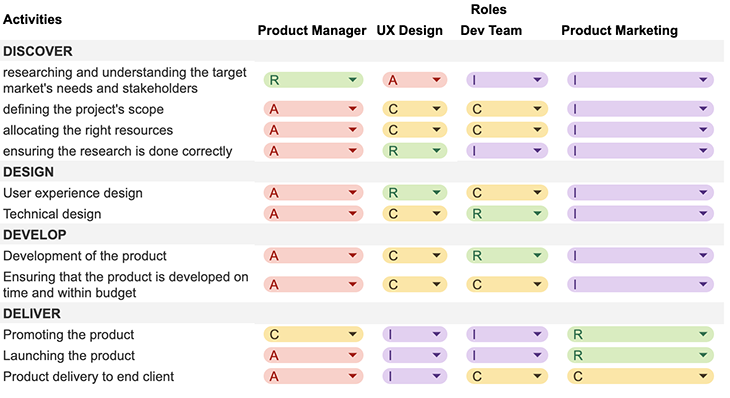 Let's break down the graphic above by defining the 4D methodology.
Discover
The product manager is responsible for researching and understanding the target market's needs and stakeholders. They are accountable for defining the project's scope, allocating the right resources, and ensuring the research is done correctly.
The UX designer and development team are consulted for input and feedback on the user experience and technical feasibility.
Product marketing will be informed of the findings.
Design
The UX designer is responsible for the user experience, while the architect/technical lead is responsible for the technical design.
The product manager is accountable for ensuring that the design meets the requirements defined in the discovery stage, that the design is feasible, and that resources are allocated appropriately.
The development team will be consulted for input and feedback on the technical feasibility.
Product marketing is merely informed at this stage as well.
---
Subscribe to our product management newsletter
Get articles like this to your inbox
---
Develop
The development team is responsible for implementing the design and creating the product.
The product manager is accountable for ensuring that the product is developed on time and within budget and for managing any issues that arise during development.
The UX designer should be consulted for input and feedback on the user experience and any issues identified.
Product marketing is informed of the progress and status.
Deliver
Product marketing is responsible for promoting and launching the product and informs of the product's readiness for launch.
The product manager is responsible for product delivery to the end user or client. They are accountable for ensuring the product meets the requirements defined in the discovery stage, that the product is ready to be delivered, and that any final issues get solved.
The development team is consulted for input and feedback on the technical feasibility and any issues identified.
UX design is informed about the progress and status.
Generally, the person accountable for a given stage will be responsible for leading it and making the final decisions, while others are consulted and informed as appropriate.
Benefits of using a RACI Chart
A RACI chart is a great tool to help product teams organize and work together. Here are a few benefits:

Clarity
RACI helps clearly define roles and responsibilities for different tasks and decisions, reducing confusion and ensuring that everyone knows what is expected of them. This applies both within the team and outside of it towards the organization.
Accountability
By clearly defining who is accountable for different tasks and decisions, RACI can help to ensure that everyone takes ownership of their responsibilities and is accountable for their actions.
Additionally, defining clear roles and responsibilities helps avoid double work and waste.
Consistency
RACI can ensure that tasks and decisions are handled consistently across the product management process, which can improve the overall quality and effectiveness of the process.
Efficiency
By clearly defining roles and responsibilities, RACI can help to streamline the product management process and make it more efficient, ultimately saving time and resources.
Improved communication
RACI can ensure that all stakeholders are kept informed about the progress of the product management process and any changes made, which can help improve communication and reduce misunderstandings.
Common pitfalls to avoid
Here are a few pitfalls to look after when considering working with the RACI Chart:
Forgetting about it and not updating it regularly
The RACI Chart is a living document — it evolves with your team or product. It is important to revisit it every time you experience a change. Even if no changes occur, you should review it once a quarter.
You should revisit the RACI chart anytime a change happens:
A new member is joining the team
A member is leaving the team
There's a new stakeholder for the product
Change in the way of working
The product enters a new stage in the life cycle
Not utilizing its potential for transparency
The RACI chart is a handy communication tool. Creating a RACI chart and shoving it into a folder or a drawer will not help you in any way.
Since it is a tool meant to increase alignment and transparency, you should ensure that every involved party is aware of it and has easy access. It is also beneficial when onboarding new team members or stakeholders.
Overlapping roles
When creating or maintaining your RACI chart, pay attention to how the responsibilities are split and that there are no overlapping roles. You should, as a team, clearly define who holds the responsibility and avoid having it split between too many team members, as this may cause unnecessary overhead.
Unbalanced responsibilities
Delivering successful products is a marathon, not a sprint. It is also vital to maintain a sustainable pace within the team, which also applies to the workload.
You should ensure that no team members are overloaded with too many responsible tasks. Discuss within your team and decide on a reasonable workload together, considering all their daily responsibilities. Should certain team members or roles have too many responsibilities, you must consider increasing your team or re-assign responsibilities.
For example, you may have a product manager who needs to keep an eye on the market, drive product-market fit, perform discovery activities, and support sales and marketing while also acting as the product owner for the development team.
This will lead the team to increased frustration in the development team's lack of availability of the product manager, so it might be a good idea to consider bringing a dedicated product owner on board. This way, they will dedicate their full attention to the team, while the product manager can focus on the more strategic aspects of the product.
RACI template
Lastly, here is a template that you can use to define your product team's own RACI chart. Make a copy of the Google Sheet, add your tasks, and define your roles and responsibilities.
Conclusion
While the RACI chart is a tool originating from traditional project management practices, it is as valuable for product management. It is lightweight, but holds a lot of relevant information. It also increases transparency around roles and responsibilities and eases the onboarding process of new team members.
Featured image source: IconScout
LogRocket generates product insights that lead to meaningful action
LogRocket identifies friction points in the user experience so you can make informed decisions about product and design changes that must happen to hit your goals.

With LogRocket, you can understand the scope of the issues affecting your product and prioritize the changes that need to be made. LogRocket simplifies workflows by allowing Engineering and Design teams to work from the same data as you, eliminating any confusion about what needs to be done.
Get your teams on the same page — try LogRocket today.