You may notice that people around you finish more jobs than you, whether it's sport activities, holidays, or even more projects. Does that mean they have more than 24 hours? Or have less things to do? You know the answer is no.
Successful people have a significant capability to manage their time. They work noticeably more effectively under tight deadlines, stress, and pressures.
In this article, we will discuss time management styles and how to implement them in your daily routines. This will allow you to understand your working style and find the skills you need to improve as a product manager.
---
Table of contents
---
What is time management?
Time management is an activity that requires you to plan and organize your time effectively. Managing your workload both in personal and professional settings gets harder and harder under stress. If you feel like you don't have time for anything, you need to organize your activities.
Working hard doesn't mean that you're working smart. You can achieve the same tasks in a shorter time by managing your time properly. A busy schedule forces product managers to skip their 1:1 with team members, knowledge transfers, meeting notes, and update sharing, etc.
You need to execute with the same focus on all your tasks and that requires a lot of effort. Time management skills will help you to understand differentiating necessary tasks. You need to learn your personal time management style and implement it into your organization.
A typical day of a product manager
Being a product manager means you are working with different teams at the same time — business, sales, support, development, C-level managers and customers etc.
Each group has different timelines. For example, development teams are mostly running two week sprints (mine is weekly). To maintain sprint flow you should answer questions on time and finish UAT quickly so that you can close sprints.
Customers are hard to communicate with and postponing a meeting is impossible, so you need to reschedule everything if there is a conflict. Additionally, you have market analysis, roadmap prioritization, and daily routines. If you schedule every meeting during the same week you won't have time to do your own issues.
To avoid meeting confusion, you may start to arrange your 1:1s for different weeks, spread over time. Reject unnecessary meetings. Forward the meetings you are not involved with to required participants.
In company internal messaging applications (we use Slack), people tend to open new channels for everything. I recommend you prioritize the channels. You can use starred features, group related ones, or directly close unnecessary ones.
What are the time management types?
Handling issues and arranging time required jobs changes according to company strategies. Most managers dictate their management style to their team members. For corporations and collaborative works this may be helpful, but for individual time management you should find your own.
As a PM, you should examine your personal characteristics to determine the best fit. Forcing yourself to obey the rules can backfire. Now let's go over the most common types so that you can select the option that best suits you: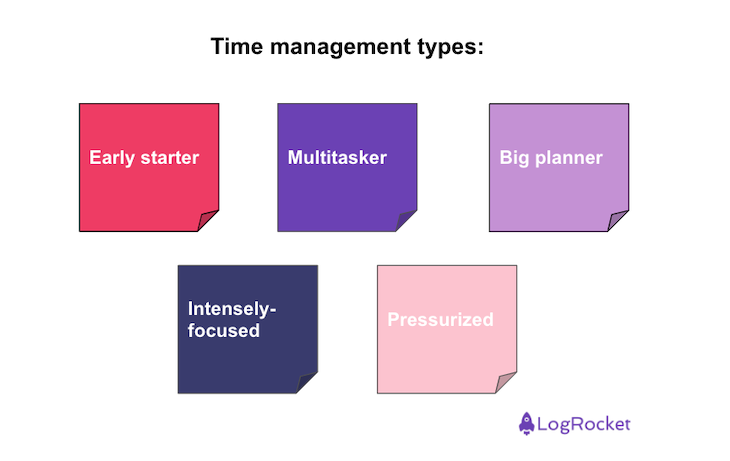 Early starter
Early starters are those who never miss a deadline and finish every task well before the deadline. These types of workers can be called cliff-hangers because they're proactive and start the job earlier than required.
Finishing tasks earlier is good for customers and business teams. However, most early starters focus on one thing and run with it until the end. If you add additional responsibilities to these workers, they may feel stressed and miss both deadlines.
As a product manager, being an early starter is an advantage. You can build trust between stakeholders with your punctuality. Remain careful about your other responsibilities while focusing on one.
Multitasker
Multitasking people (hoppers) can work on different jobs at the same time. They are likely people who enjoy taking notes and starting tasks simultaneously from their to-do list. They hop from project to project and finish all at once.
As a PM, you work on multiple projects, customers, and teams at the same time. Multitasking is almost required for us.
However, you risk distraction. Sometimes you can feel distracted while focusing on other tasks. You need to manage your time while you are managing chaotic days.
Big planner
Big planners are great project managers because they are good at scheduling a new project immediately. This type of management capability is important for project based companies.
Every company needs big planners for scheduling project timelines while considering the big picture and deadlines. They are also great for dividing plans into small phases.
---
More great articles from LogRocket:
---
If you are a big planner do not hesitate to take project responsibilities. Delicate to your colleagues because while focusing the whole picture, you may overthink and deliver late deadlines.
Intensely-focused
Intensely-focused people have super attention capabilities which will help them cover every necessary detail. The problem is, every task will only start after one is completed.
As we discussed earlier, product managers need to multitask. You may use notes, plan sheets, or scheduling applications to not miss your tasks. You should inform the business or development team, so they can arrange according to your schedules.
Remember you are working in a multidisciplinary environment and you need to get out of your comfort zone to avoid creating bottlenecks.
Pressurized
If you are a pressurized worker, you will be successful in managing customer pressure smoothly. Most PMs look like this even if they're not because pressured personas mostly finish their tasks near their deadlines. Because PMs often manage multiple things at the same time, they finish tasks closer to the deadline.
For this style, you need to be self-motivated. There will be no one to push you to deliver your task before the deadline. If you can not manage your time and schedule wisely you may fail to become a good product manager.
How to use time management to become an effective product manager
Being a good PM requires multiple skill sets and time management is one of the important. Your time management capability shapes your professional and personal life at the same time.
As a product manager you must be comfortable:
Organizing the list of tasks
To be an organized person, you need to have a list of actions and know your responsibilities. A written list will show you your workload, so that you can raise a flag to reduce some if you're overwhelmed. You can also use the list to think through your required actions.
Setting the goals for each task
The draft list will be shaped according to the actions and goals. You need to set clear goals for each one so that you can categorize the tasks. As a PM you can think of this as a value proposition, the goals will show the critical ones.
Planning the tasks for future operations
I can not imagine a product manager without options and backup plans. Planning skills allow you to be prepared for unexpected situations.
Only knowing the course of actions and future possibilities will be enough. You already prepared the goals, now it's time to plan the flow.
For example, we have monthly backlog review sessions with the development team. I explain the future plans and tasks to inform the team. The goal for this meeting is to keep everyone updated and help them imagine the course of action.
Prioritizing the tasks
Prioritization is a skill in itself. For the time management part, it is simple. You need to differentiate between necessary and unnecessary tasks.
Remove less important tasks so that you can focus on the important ones. Remember you have limited time and resources.
Delegating the tasks
You can not achieve everything at the same time. You need to know your limits and responsibilities.
With delegation, you can focus on more important tasks and prevent others from missing deadlines.
Adapting the deadlines
Sometimes things can go wrong or unexpected tasks may arise from nowhere. As a product manager, you should be able to switch your focus from one thing to another.
In chaotic times, product managers have to make risky decisions. Giving up on a task might be the best decision in some scenarios.
Focusing on the task at hand
As a PM, I know you have tons of messages, emails and meetings waiting. I can easily get distracted by slack messages and meetings. To be more productive, I create personnel time and eliminate the distractions for important tasks.
Attention management is an important part of time management. Intensely-focused people are the experts on this skill. If you are a multitasker you need to pause notifications, close your phone ring and focus as long as you can.
Stay focused and engage the task you are working on and you will see the difference in a short time.
Conclusion
Time management styles may differ according to company culture or market that you're working in. Even if you are managing your time efficiently, you may find it hard to work on startups. You need to be a multitasker to achieve drastic context switches.
Remember there is no best in time management, there are styles and characteristics of personas. You need to know yourself and adapt your style to become better and better everyday.
Featured image source: IconScout
LogRocket generates product insights that lead to meaningful action
LogRocket identifies friction points in the user experience so you can make informed decisions about product and design changes that must happen to hit your goals.

With LogRocket, you can understand the scope of the issues affecting your product and prioritize the changes that need to be made. LogRocket simplifies workflows by allowing Engineering, Product, UX, and Design teams to work from the same data as you, eliminating any confusion about what needs to be done.
Get your teams on the same page — try LogRocket today.