In the world of product management, millions of projects fail every day. On the other hand, tons of other projects succeed. So, what sets a successful project apart from failed ones?
Successful projects require strategic planning and systematic execution. To accomplish these goals, project management methodologies have emerged that help streamline processes and maintain consistency. The two most used methodologies are the project management methodology (PMM) by PMI and PRojects In Controlled Environments (PRINCE2) by Axelos.
In this article, you will learn what PRINCE2 is, when and how to use it, and strategies for maximizing its effectiveness within your team.
---
Table of contents
---
What is PRINCE2?
PRINCE2 is a product-focused project management methodology. PRINCE2 built its own principles and processes on product-based planning. Instead of emphasizing managing a project, PRINCE2 concentrates on identifying, defining, and managing products.
In the eyes of PRINCE2, products can be any tangible deliverable, such as new zero-to-one products, features, enhancements, or even services. PRINCE2 also makes sure that these produced products generate tangible and intangible business outcomes that align with the company's mission, vision, and objectives.
When to use PRINCE2
PRINCE2 takes a systemic approach to project management. It is not suitable for all types of projects. PRINCE2 works best for:
Defined requirement projects
The PRINCE2 methodology emphasizes starting with clearly defined deliverables. Throughout the process, PRINCE2 helps the project team define the deliverables and the outcomes of each stage before the start of the project.
Standard projects
Projects for governments and major corporations need some degree of formality and clear governance structure. PRINCE2 offers projects with a shared language, process, and defined roles and responsibilities. These components can be beneficial to establish the project management ecosystem for such projects.
Projects with external stakeholders
Whether it's API integration or even an outsourcing-based project, Prince2 provides a clear process to deal with vendors in an effective manner. The process includes all aspects like communication methods, expectations management, and a collaboration structure.
PRINCE2 components
PRINCE2 has three major components: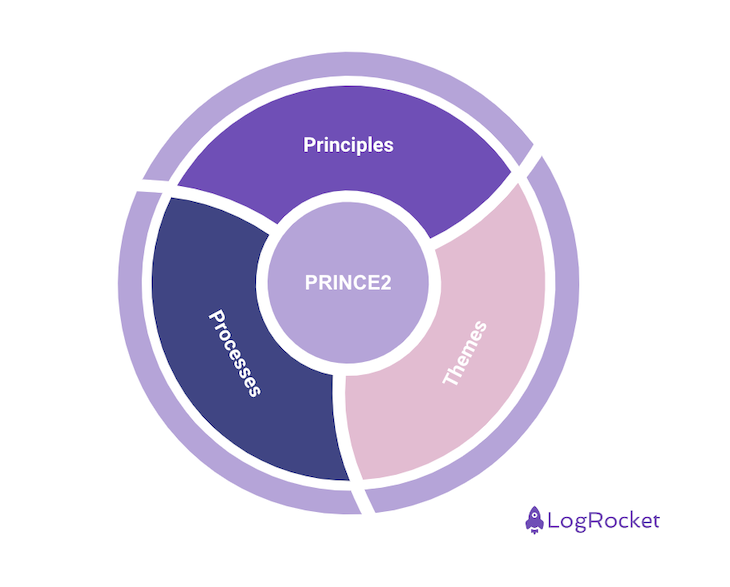 Principles
For a project to be called a PRINCE2 project, it should utilize the seven principles specified by PRINCE2. These principles ensure alignment between the project and the business goals. These principles are:
Continued business justification
This principle encourages the project team and board to revisit the business feasibility of the project. For example, if a company is building a SaaS platform for restaurants, it must reassess the market demand, the need, financial viability, and the competition in fixed and planned times throughout the project lifecycle to ensure that the project will still generate positive business results for the company.
Learn from experience
Project teams should record all lessons learned from past organizational projects, reflect on the learning, and apply the lessons to improve the performance of the project. For example, If a company is building a B2B e-commerce solution, it should have a lessons learned log or registry to log all lessons learned throughout the project (think of it as the results of an agile retrospective). This way, if the company builds a similar project later on, they can go back and learn from all recorded lessons.
Defined roles and responsibilities
The project manager leading the project team should establish clear roles and responsibilities among the team members.
Manage by stages
Instead of managing projects as one major milestone, PRINCE2 suggests breaking the project down into manageable and agreed on stages. For example, a project can be broken down based on deliverables (e.g., build feature X before feature Y), or by activities (milestone X: Design the feature, milestone Y: Implement the feature).
Manage by exception
The project board should delegate some decision-making authority to the project manager within a defined threshold. This can also apply to the project managers who can set tolerance for the decision-making process, granting authority to some of the team members to make daily decisions.
Focus on products
Project managers and boards should always start by defining the outcomes (products) rather than entirely focusing on the process. Focusing on tangible outcomes ensures harmony and alignment among the project team.
Tailor to suit the project environment
Have PMs study their environment well before applying PRINCE2. PRINCE2 should be tailored to fit the organizational and project needs. For example, a small marketing project might work well with PRINCE2, but not every single procedure can add value to the project team. Some processes will only add unnecessary waste.
Themes
PRINCE2 themes are the areas that must be addressed throughout the lifecycle of the project. In other words, a theme is a key part of the project that needs specific and dedicated consideration and planning. PRINCE2 themes provide project managers with a structured approach to overseeing and managing their projects. These themes are:
Business case — Focus on establishing clear business goals and solving the right problems
Change — Establish clear guidelines and procedures to manage the project's change requests
Organization — Build the right project team structure to execute flawlessly
Plans — Come up with a complete project plan that contains elements like the project approach, required resources, timelines, and deliverables
Progress — Procedures to monitor and control the project's progress in terms of execution and in terms of generating the required outcome
Quality — Define quality standards for organizational projects while delivering project deliverables that meet these standards
Risk — Identify, assess, manage, and mitigate project risks. Collaborate with other stakeholders to come up with strategies to eliminate those risks
Processes
PRINCE2 defines a set of sequenced activities that are compatible with its seven principles to guide the project team throughout the project lifecycle. The exact steps inside each of the processes change according to the project and company nature. These processes are:
Starting up a project
Initiating a project
Directing a project
Managing a stage boundary
Controlling a stage
Managing product delivery
Closing a project
How to master PRINCE2
Individuals interested in working in a PRINCE2 environment or leading projects using the PRINCE2 methodology often opt for one of two certificates: the PRINCE2 foundation certificate or the PRINCE2 practitioner certificate. The second is suited more for professionals who want to prove their credibility.
To become a PRINCE2 practitioner, you must pass an open-book proctored exam consisting of 68 questions with a mark of 55 percent or more. Before earning the certificate, you should submit proof of earning one of the other project management certificates or the PRINCE2 foundation certificate (the full list is available on the attached link).
Axelos doesn't offer official training. However, it partners with multiple worldwide training providers to help professionals prepare for the exam. I would recommend the mplaza course package that comes with a 48-hours course, two practice projects, four sample exams, and the exam voucher to be redeemed at Axelos.
Final thoughts
PRINCE2 is a system-oriented and effective project management methodology that doubles down on the traditional success pillars of clear communication, continuous business justification, cross-functional collaboration, and systematic project monitoring and control. However, following PRINCE2 doesn't guarantee your project will succeed. It's only a way to minimize the risk of failure.
Implementing PRINCE2 is not a straightforward task. It requires a huge investment from your organization. To apply it successfully to projects, you must be committed to the process and undergo extensive training.
Featured image source: IconScout
LogRocket generates product insights that lead to meaningful action
LogRocket identifies friction points in the user experience so you can make informed decisions about product and design changes that must happen to hit your goals.

With LogRocket, you can understand the scope of the issues affecting your product and prioritize the changes that need to be made. LogRocket simplifies workflows by allowing Engineering and Design teams to work from the same data as you, eliminating any confusion about what needs to be done.
Get your teams on the same page — try LogRocket today.