As a product manager, you set goals for your tasks and product. There are always numbers and deadlines to achieve. Some people use checklists, some use Trello to track the timeline.
Goals drive your action plans to achieve your product vision and roadmap. Many start pretty high-level from a big plan that seems difficult to achieve. In these cases, you need to take a deep breath and think how you can divide up your goals into smaller, short-term ones.
In this article, you will learn what short-term goals are and the methods you can use to create achievable and effective ones.
---
Table of contents
---
What are short-term goals?
Short-term goals are the goals you plan to achieve within three months. The term plans may differ according to company or product strategies. Some prefer calling weekly or monthly goals as short.
Short-term goals may be the steps you take to get closer to the end goal, or just the goal you want to achieve before. As the name suggests, the goals should be smaller and easy to achieve.
The importance of setting short-term goals in product management
When running agile sprint plans and roadmap priorities change instantly when something new comes up. Adapting to quick changes requires small goals to achieve. Short-term goals help you to adopt sharp changes.
As a product manager, collecting customer requests as early as possible is important so that you don't invest time and resources into developing something unnecessary. That's why I divide the projects/versions into smaller parts. Short-term goals make it easier to receive feedback in early stages.
Long-term visions and product end plans are also important. However, as a product manager, you need to achieve short-term goals before you can deliver on long-term ones.
As a summary, short-term goals will help you:
Set achievable goals for today
Take actions for sharp changes
Collect feedback in early stages
See the steps to achieve in long term plan
Set deadlines
Manage and prioritize goals
How to set effective short-term goals
Dividing end goals into smaller parts is important and a hard job. There are several methods to achieve effective goals like SMART goals and OKRs. You need specific and actionable items so I recommend you try the following methods: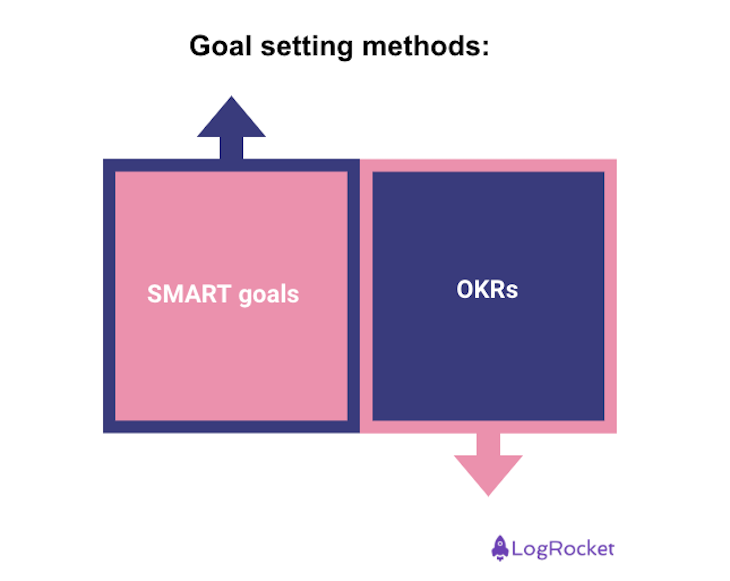 SMART Goals
This is my first option because it covers every important detail for setting a goal. SMART is an acronym that stands for:
Specific
Measurable
Achievable
Realistic
Time-bound
You can use SMART for every step in your daily product vision, roadmap, product deadlines etc. To do this, you will need to create trackable metrics, clear communication, and successful plans. With SMART goals you will easily succeed.
By setting SMART goals you will create a template to create goals in the organization. When each member adopts a clear goal setting process you will see that all stakeholders are on the same page for every discussion and you don't need to explain details.
Additionally, having clear goals will make the team motivated and work to achieve them together. Shared knowledge is your weapon to fight obstacles in your way.
OKRs (Objectives and key results)
Objectives and key results (OKRs) is another popular method for setting actionable goals. You can use it to track your goals and measure success. OKRs aims to measure your progress day-by-day.
As a template, OKR is simpler and more flexible than SMART goals. You create an OKR with a sentence. Be careful that one objective may be addressed to more than one key result.
For example:
Objective — Provide the best user experience in the market
Key result — End user net promoter score (NPS) should be higher than "X"
Key result — Number of daily orders should be over "X"
Key result — Increase number of active users over "X"
---
More great articles from LogRocket:
---
The objective is the short-term goal that should be achieved. You can shift the template as needed. The objective sentences can be "increase the number of users, decrease operation costs in half" etc.
The key results are the steps that carry you to the goal. The key results should be more precise than objective. You should set specific numbers and ratios. Everyone who reads the goal or result should understand the same thing.
How to create short-term goals
Once you have a long-term goal and start to build something you need to set your short-term goals. You need to analyze and prioritize product vision, mission, and backlog everything.
To create your own short-term goals you can follow these steps: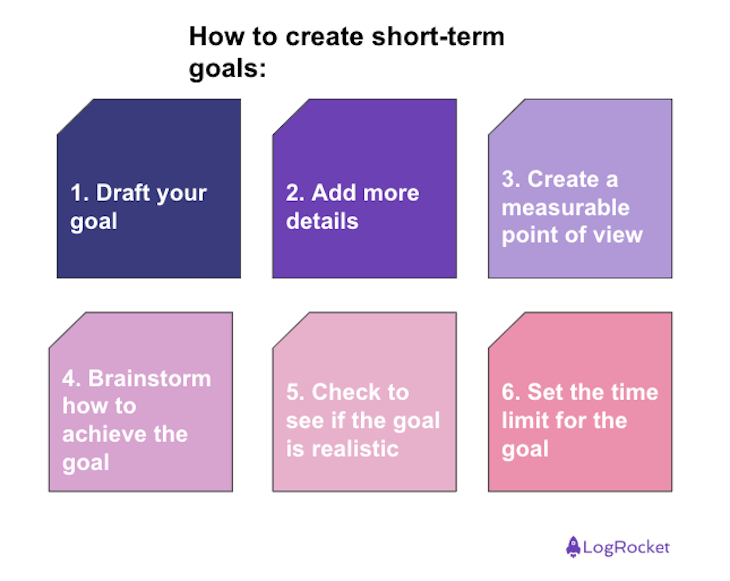 1. Draft your goal
Start by writing down some plans that you want to achieve. The first step is the statement of the first phase. You can write more than one sentence or just a couple of words to understand a rough goal.
Example — We want to decrease operational costs
2. Add more details
If you think that the first goal doesn't explain what you want to achieve or not everyone can understand the same thing from the statement, you need to paraphrase it. What is the specific thing you plan to accomplish this quarter?
Example — We want to decrease international carrier company costs
3. Create a measurable point of view
This step is important for you to understand where to stop or how you can understand whether you're making progress. Numbers, days, ratios, or something measurable should be added into every kind of goal. Start to think about your success criteria.
Example — We want to decrease international carrier company costs by 20 percent
4. Brainstorm how to achieve the goal
Come up with a projected forecast that allows you to evaluate whether you've achieved your goal. This should be a collective effort with agreed upon figures.
You need to collect the real numbers and see if that number is achievable within the timeline or not.
Example — 5 percent of last year's order was sent from different warehouses, so we need to combine the orders within our warehouses for the same users and decrease the cost by 15 percent
5. Check to see if the goal is realistic
The effort needed to achieve the goal has to fit within the agreed upon timeline.
Example — We will start with the same city warehouses first to ensure order delivery dates are not getting longer in order to achieve 15 percent cost reduction
6. Set the time limit for the goal
The time boundaries are important. The short-term goal you create will serve the long-term goal. The small steps need to be finished within the planned duration before you can start a new one.
Example — We will start with the same city warehouses first to ensure order delivery dates are not getting longer in order to achieve a 15 percent cost reduction in the first quarter
Conclusion
Short-term goals serve your long-term plans. Because of this, you need to be careful about your priorities and setting clear goals. The total of the short-term goals needs to cover the long-term plan.
As the long-term plan is agreed upon by all management levels, short-term plans also need to be advised from stakeholders. The plan and the goal belongs to the product manager, but the delivered goal must satisfy the customers. Always keep customer and market needs in mind when crafting short term goals.
Featured image source: IconScout
LogRocket generates product insights that lead to meaningful action
LogRocket identifies friction points in the user experience so you can make informed decisions about product and design changes that must happen to hit your goals.

With LogRocket, you can understand the scope of the issues affecting your product and prioritize the changes that need to be made. LogRocket simplifies workflows by allowing Engineering and Design teams to work from the same data as you, eliminating any confusion about what needs to be done.
Get your teams on the same page — try LogRocket today.