Have you ever worked in a company, or on a team, and not been quite sure what you're working on or why?
You likely felt that way because there wasn't an effective strategy in place.
Product strategy is one of the most important tools to implement in your organization if you really want to empower teams, deliver value to your customers, and win in your market.
Your product strategy determines thinking around where you want to take your product direction, and if done well, will be the crucial ingredient to allowing your teams to be empowered and deliver value.
In this article, you will learn what product strategy is, how to make it successful, and the six steps needed to maximize value.
---
Table of contents
---
What is product strategy?
Product strategy bridges the gap between your vision — where you want to get to — and the things you're doing on the ground to actually get there.
Product strategy is not a firm plan of action, but instead covers the "best bets" that you want to work on as a product organization to reach your end goals. These areas are broad enough that how you execute on these can still be defined, but narrow enough that your product strategy is specific.
Product Strategy looks at where you want to focus as a business to win in the market within the three to five years. Instead of looking just at what the strategy is for one product, product strategy refers to assessing what the product organization as a whole needs to achieve. Similar principles can be applied to assessing the strategy of one product.
Why is product strategy important?
I'm sure you've all used the expression "busy fools" at times. This is the situation we find ourselves in without a strategy. Without seeing the path to the end goal, it's really hard for a business, especially at scale, to have teams that are set up to effectively execute.
If you look at organizations without an effective product strategy, you tend to see:
Teams with competing priorities and objectives
A ton of silos and dependencies as teams pull in different directions
A lack of value added — there are a lot of people doing things, but they're not having the impact that you want to see on the bottom line
Companies spend millions of dollars on engineering teams, and have spent years going through an agile transformation to set these teams up to be as effective as possible.
So the solution to all of these problems — a product strategy…
A product strategy:
Helps you to align around common goals
Allows you to say no to things that aren't as important
Stops you from being reactive
Ensures that you've chosen the topics that really are the most important ones to focus on
This allows all of your teams to be clear on what they're doing and have an aligned purpose and goal.
Product strategy examples
To better understand the impact of an effective product strategy, let's take a look at two case studies:
Amazon
Amazon is a key player with an amazing product strategy. Their goal is simple: "Amazon strives to be Earth's most customer-centric company," amongst other things. You can see their laser focus executed extremely well through their strategy and guiding principles — customer obsession rather than competitor focus, passion for invention, commitment to operational excellence, and long-term thinking.
They balance the customer, operations, innovation, and sustainable growth to execute on their strategies. You'll have seen this in reality where their shopping experience is seamless, and they're constantly assessing how to create profit and serve the customer with free shipping.
Their strategy and guiding principles allow an organization (at huge scale) to assess where to invest, and how to do this effectively. They're able to combine efforts across different areas of their business.
Booking.com
While working at Booking.com, it was clear to see the impact of a well-defined strategy on the work of all teams. Booking.com set their mission to, "Make it easier for everyone to experience the world".
This was applied at a strategic level across all business units and translated into what each area could focus on at a very high level to really achieve the mission. This gave each area crystal clear focus and allowed us to plan for the quarter and map this back to the mission. Teams would also know exactly where to make trade-offs and which priorities were/weren't the most important.
Again, the benefits of executing a strategy well here, are to allow such a huge organization to operate successfully across many verticals, communicating and creating synergies where needed.
6 steps to developing an amazing product strategy
Creating a product strategy doesn't just happen in isolation. To execute effectively on a product strategy you need to have the right inputs, and you need to have the right follow up process in place to allow you to continue to gain value from your product strategy.
---
More great articles from LogRocket:
---
It's not an exercise that happens once, in isolation and is then set in stone for the next 5 years — it requires collaboration across the whole business, and constant reflection to assess where to remain focussed, and potentially where to change.
The following six steps will help you:
1. Ensure you have a business strategy to feed the product strategy
Without a business strategy first, it can be hard to identify the areas that product needs to focus to achieve the business goals. If the business doesn't have a strategy, try to influence key stakeholders to generate one. If you can't achieve this, you can create a product strategy based on what you think the priorities are, and feed this back to the business.
2. Make sure you have customer insight and market context
This becomes part of your input to the business strategy, but it is an important step to have covered before you try to create a strategy. If you don't already have the insight to know what customer you're trying to serve, the problems that they want solving, and the market(s) that you're operating in, it will be impossible to come up with strategic pillars and priorities. Always have your research, insights, and understanding first.
3. Understand your business capabilities
This also comes into play as you create your strategy. You don't necessarily need this in advance, but the more knowledge and awareness that you have in this space, the more likely you are to create a realistic strategy.
4. Create the strategy, aligning with different business areas, and getting feedback from teams
Product doesn't work in isolation. Depending on your business set-up and the departments that contribute to the product, you might also have some external departments to communicate with. You will want to make sure your strategies and priorities align. If not, there will be conflicts down the line.
You might also not have all of the answers when you go to create your strategy, or not be 100 percent sure if you will be able to effectively execute on your strategy. Getting input from teams will allow you to identify any major gaps and ensure the strategy is understood and will be effective.
5. Set up teams to execute against the strategy
Many organizations create a strategy and then hope that teams will deliver features that contribute towards this. There are actually many steps in between to bridge the gap between strategy and delivery, but the most important one is to coordinate teams around common goals and strategic pillars.
This might also mean generating cross-functional teams to achieve their goals by combining product, marketing, and sales to focus on the strategic initiatives as opposed to traditionally more isolated approaches.
6. Review the strategy on a regular basis
Products, customers, and markets are always changing. As much as I would recommend that your strategy is relatively stable, you need to be able to adapt where it makes sense to change your focus.
You might also learn a lot as you move through a strategic pillar, and although you might continue to focus on that area, you might want to change how you approach this.
By reviewing your strategy on a regular basis, you will be able to open up two-way conversations with the business, and ensure you're being reactive enough to work on the most important things. A regular basis for product strategy usually is around once a year, unless you learn anything major in the interim that would drastically shift your approach: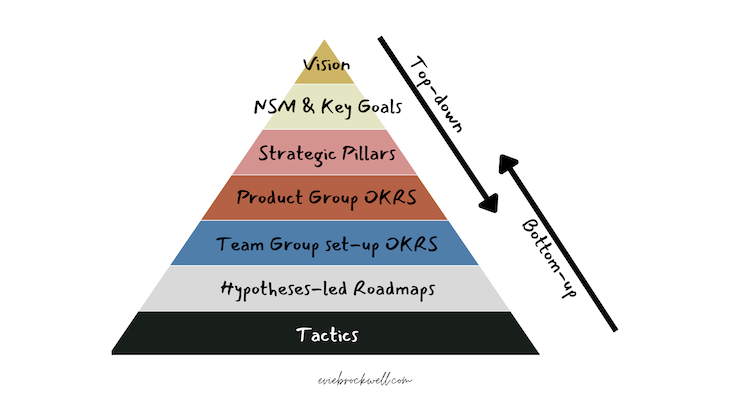 The 4 key components of a great product strategy
A good strategy contains enough contextual information for the organization to understand why decisions have been made, and crucially includes key strategic pillars, and an importance of execution order.
The 5 key components of a great product strategy are:
Mission / vision
There's plenty of debate on whether visions and missions should be separate, or if they can be the same thing. I would say that the important thing here is to ensure that the direction of where you want to head is crystal clear.
A vision often goes a bit further to highlight how you want customers to feel when they use your product.
My main advice would be not to get caught up in the semantics and the difference between the two, but instead, focus on conveying exactly what you do, who for, and how you want them to feel.
Market context
This allows you to understand where you currently sit, where you want to be, and what your competitive advantages are. You can assess this in a variety of ways.
My recommendation is that companies focus on what their target audience needs, what their strengths are as a business, and how the market is evolving.
Rely on your north star metric (NSM) to know if you've achieved success. It's the real lever that will actually have an impact on your bottom line. You know that if your organization contributes towards this in a positive way, they're having a positive impact.
Strategic pillars
Strategy involves the actual plan for how you're going to achieve your vision.
It's all about deciding which mountains you're going to scale and setting clear priorities to do so. Whenever I work through strategy, I ask myself a few questions over a few key topics:
In which areas do we want to "win" to achieve our overall aim?
What are our opportunities?
What are our current capabilities in this space?
Therefore, what gaps do we need to focus on to achieve our goals?
At this stage, you might have identified lots of gaps and areas of focus for each one of your goals. This might mean grouping some specific gaps together, or you might be delivering one capability that actually allows you to meet two goals: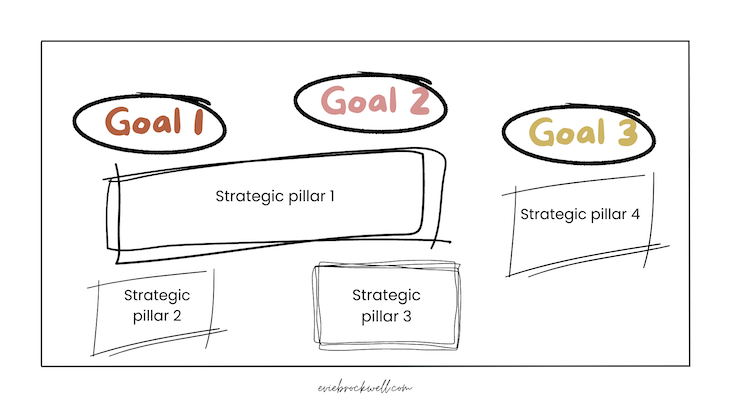 Execution plan
You obviously won't achieve everything at once, and this isn't about getting into the exact details of what it takes to deliver a strategic initiative, or knowing exactly how long that takes…
Instead, assess priorities within priorities. Think about:
Where does it make sense to focus first?
Is one area dependent on another?
Is a certain market booming right now and needs to be capitalized on ASAP?
6 tips for executing and maintaining a product strategy
The following are the most important tips that I would recommend following when setting up a product strategy:
Tip one — Do your research upfront — you need to know your market, know your audience and already have evidence to see where you can win
Tip two — Involve others with the strategy creation process. Get input from the team on the market context and what the audience needs. Getting input means you'll have way more information and you'll have buy-in from the business
Tip three — Don't worry about creating a shiny polished document with all of the info – creating a one-pager makes it easy to digest and communicate
Tip four — Use your strategy on a regular basis. If using quarterly planning and OKRs, your strategy should lead your direction for prioritization decisions and where to focus
Tip five — Continue to have conversations across the business on what is and isn't working. There should always be space for the business to feed back what they learn and to revise the strategy
Tip six — Revisit the Strategy properly once a year — assess the progress you've made, the gaps you still need to address, and whether any new opportunities have come up. Strategy maintenance should be a continuous exercise and keep looking three to five years out on the horizon
Final thoughts
Creating a product strategy is the most essential thing that you can do to actually generate value in product development.
Creating an effective product strategy will leave you space to empower your teams to build the right things and ensure that everyone is motivated to drive the success of the product.
The most important things to consider when creating your strategy are:
Including the right inputs to allow you to make the right decisions and choose focus
Really refining your strategic pillars to the three to five most important things, and breaking these down for what is important year-by-year
Getting the business involved from the start to create buy-in and ensure you have the best information to make informed decisions
Get all of these things right, and you'll end up with a strategy that really does add value to your business.
Featured image source: IconScout
LogRocket generates product insights that lead to meaningful action
LogRocket identifies friction points in the user experience so you can make informed decisions about product and design changes that must happen to hit your goals.

With LogRocket, you can understand the scope of the issues affecting your product and prioritize the changes that need to be made. LogRocket simplifies workflows by allowing Engineering and Design teams to work from the same data as you, eliminating any confusion about what needs to be done.
Get your teams on the same page — try LogRocket today.