Let's say you want to bake a cake. What would you need to do that? First, you'd have to decide what flavor of cake you want to bake — chocolate, strawberry, etc. Next, you have to check if you have the right recipe and the necessary ingredients to bake this cake. After that comes actual preparation of baking a cake.
After a few hours, your cake would be ready to eat. This entire process — from ideation to coming up with a product and then eventually retiring it — is what we define as product lifecycle management, aka PLM. It typically encompasses answers to the following questions:
What do we need to build?
Why do we need to build?
How would we build?
How do we scale?
How do we retire the product?
In this article, we will deep dive into the definition of PLM, why companies need it, examples of PLM tools available in the market, best practices for implementing PLM in product management, and important takeaways for you to reap the benefits of this interesting approach to building products.
---
Table of contents
---
What does PLM mean?
PLM, or product lifecycle management, is a process that helps companies to build products on an efficient, cost-effective, and timely basis. It's essential for companies that are looking to stay competitive in today's rapidly changing business environment, where customer demands and technological advancements are constantly evolving.
The goal of PLM (product lifecycle management) is to ensure that the product meets the customer's needs with utmost quality. It includes the use of the software (and hardware), strong collaboration between cross-functional teams, and aligned stakeholders and higher management.
PLM helps teams to manage the entire product development process including ideation, requirements gathering, design, development, testing, and eventually product launch. In addition, it also helps teams discover strategies for post-launch and growth, and, later, the retiring phase.
Building software or any product requires time, money, and resources. And since these are finite, it's extremely important to understand how efficiently the product can be built. This is where PLM comes into the picture. It helps decrease risks and improve the product development process, thereby launching products that solve customer's problems.
In my product management experience that spanned for over a decade, I had the pleasure of being a part of seven major product lifecycles. These lifecycles were generally pretty long and always depend on how complicated the products are. Nonetheless, they form the backbone of building a product: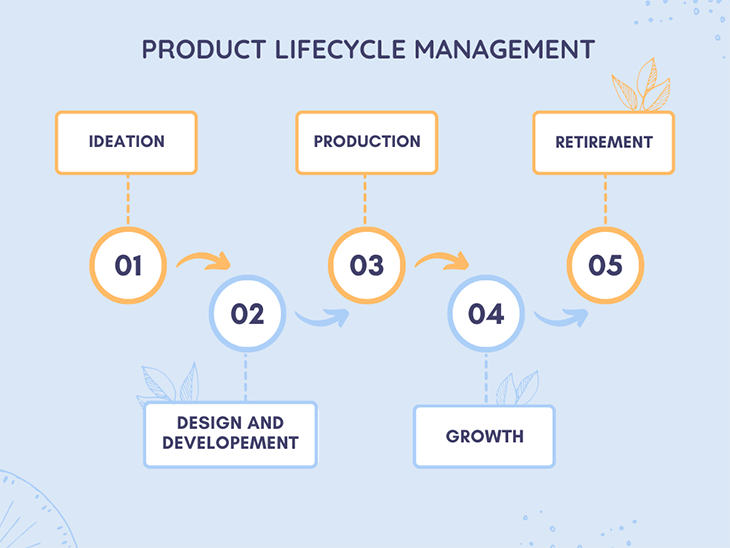 Specific stages of PLM
Let's get into the specifics of each phase of product lifecycle management.
Ideation
This is the first and foremost stage of PLM. This is where the team discusses and agrees on the product concept. At this stage, all the ideas are collected and prioritized according to impact and other viability factors.
This stage includes market research, competitive analysis, identifying customer needs and pain points, and determining the requirements of the product. This part is often led by the product manager and includes higher management and other relevant stakeholders from the design and engineering teams.
Design and development
The design and development stage is where teams come together and start working on the product — mainly design and engineering. This is when prototypes are made and tested with users. Once tested, the main product is made after several iterations on the prototypes.
Production
The product stage is when the product is launched to all the users in production. It also includes activities such as marketing, sales, advertising, and customer service.
Growth
This stage involves expanding the product to various markets and continuously improving its features according to customer feedback.
Retirement
In this stage, the product is no longer solving a customer's needs or may no longer be profitable/viable. This is when the companies can decide to discontinue the product. In certain cases, this also happens if there is a new competitor with a better product. However, in most cases, the products are iterated and made better in order for them to continuously serve users.
Why do companies need PLM?
Irrespective of the size and scale of your company, you should investigate and understand how PLM can help deliver products faster and more efficiently. It doesn't matter if your company is the startup of a billion-dollar firm serving millions of customers or if it's just getting off the ground, PLM can be vital to the success of a product.
Here are some key reasons why companies need PLM:

Streamlined end-to-end product development process
Building a product requires the involvement of multiple teams and often spans several months. Hence, it's important to understand how to best utilize the expertise of these team members. This is where PLM comes in — it helps you efficiently build the product by optimizing the use of the available resources.
A good example is creating a project plan with clear scope and timelines. The plan should have all the details regarding what work needs to be done during the ideation, design and development, product, growth, and eventually retirement. This will not only help the team members involved in the project but even upper management and users. It will outline a clear map for everyone to be aware of the development process, thereby providing better visibility.
Efficient collaboration and communication
Having multiple team members requires clear collaboration and communication. Since the product goes through multiple teams — namely product management, design, engineering, customer service, higher management, and other stakeholders — it's important to have an error-free collaboration and communication framework. PLM helps provide that.
While working at Zalando, we were asked to work from home because of the pandemic. We quickly documented the changes in our communication methods and shared them with team members. This made the transition from in-office to working from home smooth. Having a communication framework that's agile and flexible helps teams to collaborate better.
Faster time-to-market
Building software can be achieved in multiple ways, but PLM can help teams to launch the product faster by optimizing the available resources. Let's say you are a PM at a startup that builds software for farmers to help them manage their entire farming process. With PLM, you can include marketing, sales, growth, development, design, and other relevant team members right at the start and create a go-to-market strategy. This ideally should go hand-in-hand with the development process.
Without PLM strategy in place, there will be increased risks and eventually will affect and elongate the time-to-market.
Enhanced customer satisfaction
PLM can help companies develop better products that solve customer problems and align with their needs and expectations leading to better customer satisfaction and loyalty. How?
Let's say you are a PM at a company that builds AI products. Considering how fast this space is evolving, it's important to win customers early on. As a PM, you can streamline the product development process and introduce the features fast. And then complete the loop by considering customer feedback via net promoter score (NPS). This will help to enhance customer satisfaction.
Overview of the major PLM software and their features
Name
Description
Features
JIRA
Probably the most preferred software for managing product lifecycles. It's built by Atlassian as a web-based application. The best part of JIRA is that it's highly customizable and can serve the needs of the companies, irrespective of their sizes.

Automation
Workflow management
Reporting
Dependency management
Scrum and Kanban board management
Integration with third-party tools

Teamcenter Siemens
Teamcenter Siemens is built by Siemens and is also one of the widely-used tools for PLM. The software is highly customizable and allows companies to choose the features and modules that fit their needs.

Detailed analytics
Change management
Integration with third-party companies
Quality management
Document management
Workflow management
Data and process management

Oracle Agile PLM
Oracle Agile PLM is a comprehensive PLM solution built by Oracle. This particular software can handle extremely complicated workflows and can help companies streamline their product development processes, improve collaboration, and ensure compliance and quality.

Modules for compliance management
Quality management
Data management
Workflow management
Change management
Advanced analytics

SAP PLM
SAP PLM is yet another big player in the market and one of the oldest. It provides a centralized platform to store and manage product data, collaboration tools, and complicated workflow management.

Visual product analytics
Change management
Integration with CAD and other tools
Product lifecycle insights
Secured sharing of product and project information

Arena Solutions
Arena Solutions is a SaaS product that helps teams of all sizes to manage their product lifecycles. It also offers a range of mobile applications, providing flexibility and accessibility to users.

Training management
Requirements management
Product record control
Quality management
Best practices for implementing PLM in product management
It's one thing to have PLM in mind but another thing to implement it. There are a few tips that will help you implement PLM in the best way to maximize its benefits: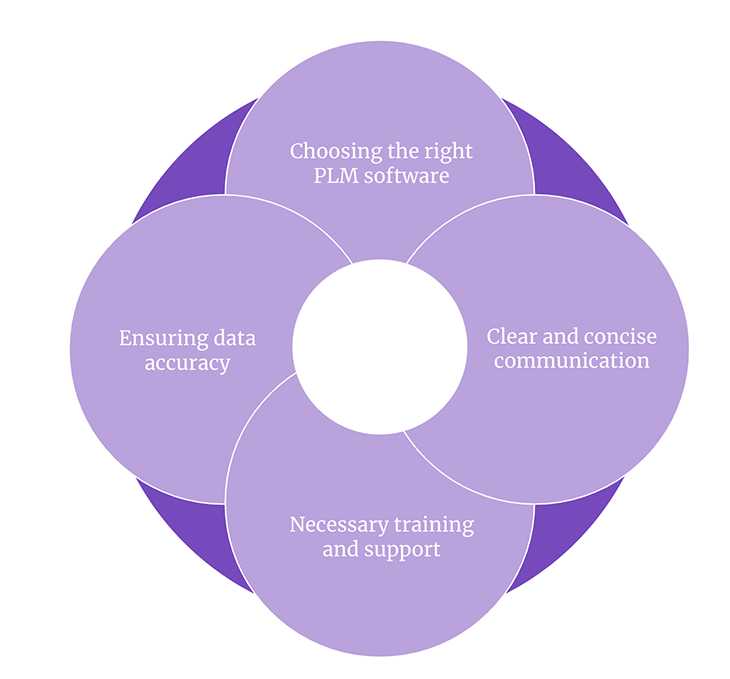 Choosing the right PLM software
As mentioned above, there are many PLM software available in the market but the key is to understand which PLM software will best suit your team and the company.
There are multiple factors to consider before making a decision such as cost, customization, integration with other systems, support for main use cases, workflows and processes, and active support in case of issues.
Clear and concise communication
Having effective communication is one of the necessities for successful PLM implementation. This includes active participation from all team members, a clear definition of roles and responsibilities of every team member, and regular check-ins and status checks of goals to stakeholders.
Necessary training and support
The usage of new tools comes with the overhead of training. And hence, it's important to provide adequate training to all the team members. This will boost the confidence of the team members using the tools, thereby improving the PLM processes.
---
More great articles from LogRocket:
---
Ensuring data accuracy
Having accurate data is essential for PLM to succeed. This requires establishing processes for creating and maintaining the data, review, and approval, as well as regular checks to ensure data is complete and accurate.
Conclusion and key takeaways
PLM is a comprehensive solution that helps companies manage their entire product lifecycle from concept to launch. It acts as a central repository for product sources and comes with many advantages, including enabling companies and teams to efficiently collaborate, streamline product development processes, reduce time to market, and improve the quality of their products.
By integrating data, people, and processes, PLM software provides an end-to-end solution for companies to manage their entire product lifecycles.
Featured image source: IconScout
LogRocket generates product insights that lead to meaningful action
LogRocket identifies friction points in the user experience so you can make informed decisions about product and design changes that must happen to hit your goals.

With LogRocket, you can understand the scope of the issues affecting your product and prioritize the changes that need to be made. LogRocket simplifies workflows by allowing Engineering, Product, UX, and Design teams to work from the same data as you, eliminating any confusion about what needs to be done.
Get your teams on the same page — try LogRocket today.