Before constructing a house, the owner sits down and calculates the cost of what he wants the building to look like. He contracts an architect, and they design the plan or blueprint for the house. The architect and owner discuss the form and structure of the house, and the owner can visualize how each room fits together and where the dead ends are in the house.
To succeed as a business or project, you should have a plan. Depending on the product you offer, it is likely important that your website has unique designs that map out the customer journey.
This article discusses UX sitemaps, the steps involved, and their importance in providing a roadmap for your website.
Table of contents
What is a UX sitemap?
A UX sitemap is a visual map created by the design team that shows how the website's contents and pages are connected.
A UX sitemap helps you organize website content in a way that is useful to users. This means that making a UX sitemap can help you arrange your information and webpages from most important to least important in a way that makes them easy for users and visitors to find.
The purpose of a UX sitemap is to show how individual webpages link. A UX sitemap enables you to fully comprehend how users interact with the content of your website. It outlines the main pages on the website and their relationships with one another.
Furthermore, it is necessary to have a UX sitemap in place because these sitemaps play a huge role in structuring your website content. By mapping out your content, a UX sitemap will allow you to see how your platform translates to your target market.
Accordingly, a UX sitemap is also a systematic view of your website or app and shows how your website's content pages transition to one another. To convert target users, organize your pages so that user journeys connect once they arrive on your homepage. Users prefer any website that is easy to follow.
Designing a UX sitemap is necessary if you are building an online client presence. It helps you outline the areas of your site and its content needs. A good UX sitemap ultimately leads to a good user experience at the end of product development.
Benefits of planning a sitemap
A UX sitemap is important because it helps the product team make certain design considerations way before the product is launched, saving time and money.
But a sitemap can do much more. Here are the key benefits:
Helps designers and product owners easily visualize the structure of the product
Helps designers to make smart decisions about layout structures
Illuminates where and how your users are going to interact with the website. This insight improves conversions
Identifies edge cases in your product design
Is a good tool to use when communicating functionality, structure, and usability to a team and stakeholders
Is useful for making fast iterations and changes
The difference between sitemaps and user journey maps
Earlier in the article, we discussed how the UX sitemap depicts a user journey from a bird's-eye view. This UX sitemap is often misinterpreted to be an element of information architecture or a user journey flow.
N.B., a UX sitemap is not information architecture. The UX sitemap focuses on the content structures and page categories of the website, while the information architecture highlights the structure of the website.
To clear up the confusion, this is how a user journey map or flow differs from a sitemap:
A user flow shows the steps a user takes to complete an action
User flows are also called customer journey maps. They cannot be seen by users but can be experienced. Sitemaps, depending on the type, can be seen by users for easy navigation
User flows are paths in the entire map; they show a user's steps from point one (or screen one) to the next
A UX sitemap shows the entire journey from above
On a user flow, it is the user's action that determines their next step
The UX sitemap influences the user's steps but is not influenced by their actions
The UX sitemaps give you a clear picture of the navigation summary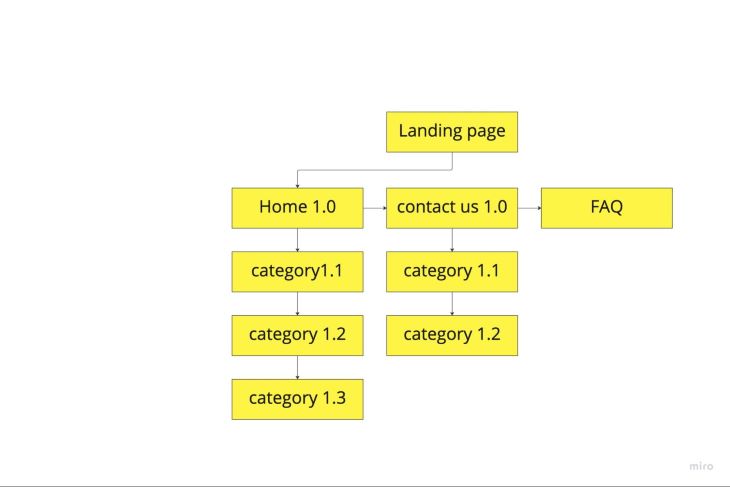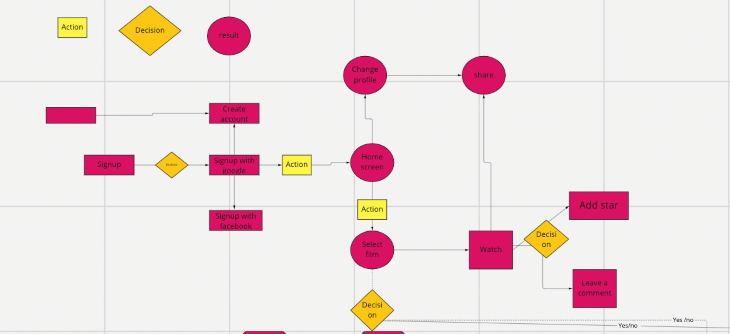 How to create a sitemap
There are a few key steps involved in creating a sitemap, but you might use different steps depending on your workflow. Here are the main steps to creating a successful sitemap:
Identify all your webpages
The first step in creating a fully functional site map is to consider the outline of the website's contents.
The best way to go about this is to write down all the information you will want to have on the site and organize it. You can imagine the major sections of the website and write them on sticky notes; this would help you group similar content. Choose the primary content hierarchy, like About, Contact us, etc., then add the secondary pages under each primary content.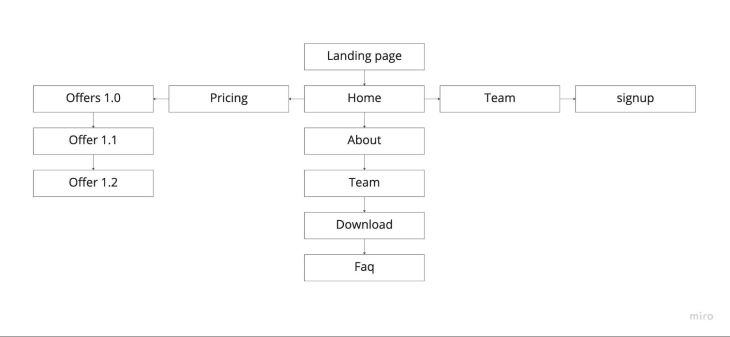 Rearrange content hierarchy by priority
Usability comes after content organization. In this step, the group contents are organized according to importance and usefulness. Depending on the website or product, the contents that are most important and useful are usually at the top of the page for easy findability.
For instance, an ecommerce site would most likely have items for sale in categories on the first page rather than chat features. It would also have search and filter features, making it easy for customers to use for shopping.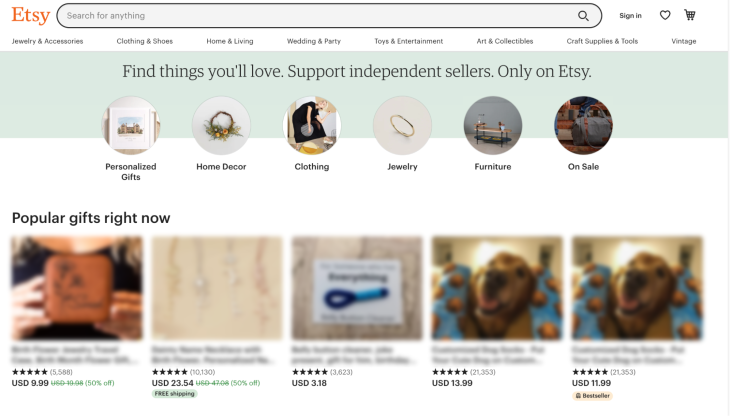 The image above is from Etsy. The contents are organized in a way that makes it easy for customers to use; they can use the search bar to find an item or use the categories listed. Since it is a shopping site, the first page contains items for sale.
Link content pages that belong in a similar category
This process involves linking and grouping content pages that fit into the same category or page.
For instance, the About section tells a user about the project and would most likely be on the home page because the user visits there first. It is often identified by numbers like 1.0, which is the first page, followed by 1.1, which is linked to the mother page.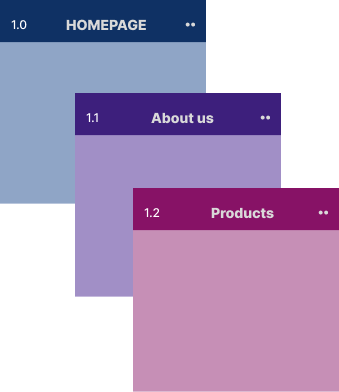 Iterate on the final product
For most projects, this is the final stage. After the designer has put the sitemap together, it can now be tested and shared among the teams for collaborative feedback to aid improvement.
Here, you can consult stakeholders and the product manager to understand what the top priorities are and complete iterations before the final development to save money and time. Once you get feedback from the team, you can now trim unnecessary content and pages.
Factors to consider when creating a sitemap
How do you design a site hierarchy that gets your users to your most important content quickly? In addition to illuminating the key elements of a successful sitemap, below are considerations you should take into account.
Target audience behavior
Identifying your target audience is essential to creating a sitemap. Your site must be organized in a way that persuades users to make certain decisions without forcing them to do so.
This is why we research users—to find out their needs and patterns of interacting with products. For instance, websites that have free trials are most likely to have people sign up after the expiration of the trial. In comparison, websites that ask users to subscribe first are more likely to have the user exit the website and look for one with a free trial, especially if they do not frequently use the product type.
Breaking down information
In design, minimalism is influenced by both structure and elements, as well as the content. Consider what types of content and elements would be needed to make your site active; try not to overload the pages with too much content.
Remember, for most content, less is more. For instance, do not overload your website with too much text content, and when using images or illustrations, try not to go overboard. Some negative space improves the user experience.
Functionality for the average user
Consider the functionality of the site. Does the organization of contents in a specific pattern affect functionality? If yes, you need to go over your site map again.
As much as several trends and design patterns are emerging, there are several that should remain constant because they work and because users have a better experience with them because they're familiar.
An example of this is making the homepage the first thing you see when landing on a website or app. If a user is conditioned to see the homepage first but your website has the payment page first, it can be quite confusing and affect the function of your website because they need to make a decision before paying.
Tools for making sitemaps
You can use several types of tools for creating sitemaps. Before creating one, find a tool that is accessible by the rest of the team and not too complicated to use.
These would be some of my recommendations.
UX Flow
UX Flow is a template-like kit that can be found or downloaded as an extension design software like Figma and Sketch. It helps you create sitemaps and other screens easily directly on the design page by providing you with templates.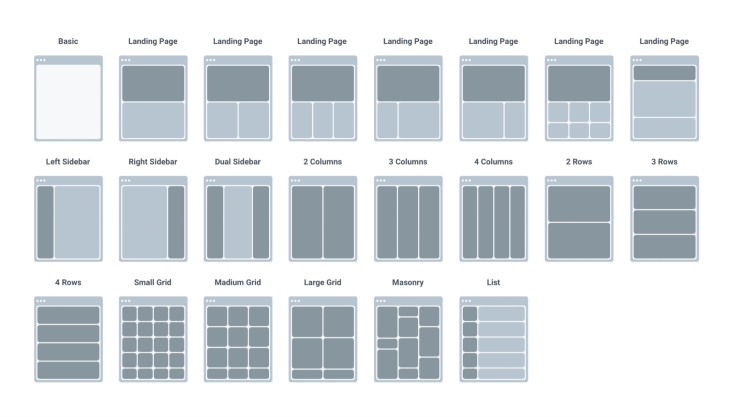 Octopus
Octopus is a simple prototyping tool that you can also use to create sitemaps. It allows you or the project lead to also calculate the number of hours for each page and record them with the spreadsheet integration.
If you are working in a big team with other stakeholders, the Octopus allows for real-time collaboration and pricing is fair for bigger teams. You can now export the file as a CSV with XML and SEO checks.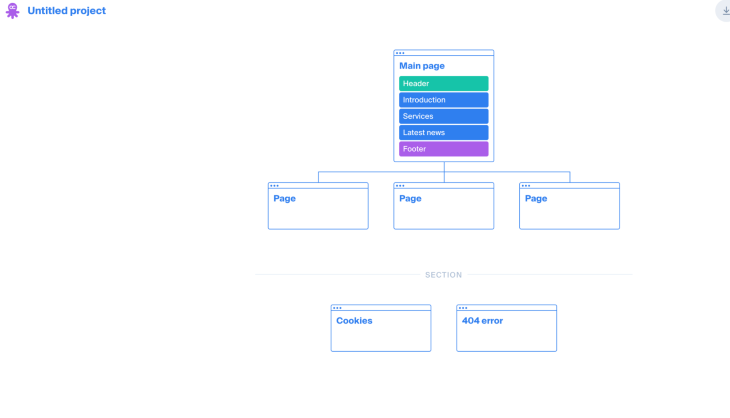 Miro
Miro is a whiteboard design platform that can be used to create mindmaps, sitemaps, user flows, and other visual designs. The Miro team has created a set of sitemap templates that can be used by beginners.
However, one downside is Miro may not be able to provide you with the satisfaction you require if you are a professional working on a large team. This is because the system is not automated and you may spend time a lot of time designing for larger content.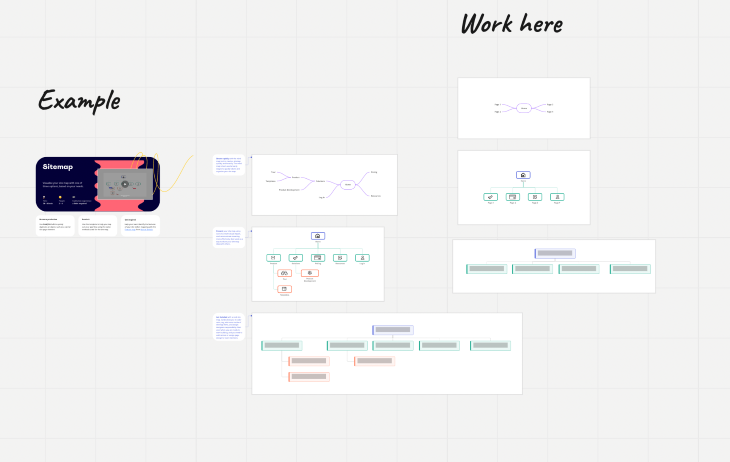 MindMup
MindMup is a free, open source tool used to create mind maps (mindmaps are visual representations of thoughts and ideas). This includes sitemaps and other visual boards for collaborating.
MindMup is a good tool for storyboarding and sharing ideas with team members and stakeholders. You can save, share, and publish your designs on MindMup.
Conclusion
Ultimately, a UX sitemap informs decisions about navigation, labeling, and organization based on user needs.
It takes considerable time and effort to prepare it well and provide the best user experience, but when done well, it can improve the user experience, save development time, and convert customers due to its ease of use.
Featured image source: IconScout
LogRocket: Analytics that give you UX insights without the need for interviews
LogRocket lets you replay users' product experiences to visualize struggle, see issues affecting adoption, and combine qualitative and quantitative data so you can create amazing digital experiences.
See how design choices, interactions, and issues affect your users — try LogRocket today.