For a long time, email marketing was the best way to keep customers active. Although still heavily used, companies have shifted towards more effective methods.
How often do you check your emails? I check mine a few times a day and categorize promotions to ensure I don't get distracted by them. On the other hand, I always pay attention to push notifications on my phone, watch, and laptop.
In this article, you will learn how to use push notification to reach users with relevant information that keeps them active and returning to your product.
---
Table of contents
---
What are push notifications?
In a few words, push notifications are short messages presented on your desktop, tablet, smartphone, or smart device. These notifications are effective because they're concise and visible in the notification center, or on your home screen.
Push notifications allow for far greater precision than other customer outreach methods.
Let me give you a clear example. Take a food delivery app after a customer orders something. It's important to keep them aware of the progress. Yesterday, at 07:21 PM, I ordered at Lieferando in Munich and I got notifications like this:
07:22 pm — iPhone push notification — "David, we just received your order. In around 37 minutes, we will ring your bell."
07:29 pm — iPhone push notification — "We're preparing your meal. Soon it will be with you."
07:53 pm — Apple Watch push notification — "Your food is on the way. It should take 7 minutes to be at your door."
I received timely information and didn't get anxious. That helped me trust the service and calmly wait for my order.
The importance of push notifications
Communication is a key aspect of any service. Whenever customers miss important information, they get anxious, mistrust the service, have doubts, or bounce and never return. Trust me. You don't want to leave customers misinformed.
Push notifications can be valuable when used well. There are three main benefits:
Usage: Customers will use your product when it comes relevant for them. Look at Instagram. You receive notifications whenever you're tagged, or receive a direct message, which draws you to the content
Activation: It's natural that customers don't reach the end of your conversion funnel. They can drop for a number of different reasons, which may be unrelated to your product. A push notification may recover someone who abandons their cart
Information: Misinformed customers are unhappy, but providing timely and relevant information will satisfy them. You'd like to know what's happening with your order when you order something. Push notifications can help
Key elements of push notification strategies
Pursuing faulty push notification strategies can be a killer for your product. You need to remember that the customer must remain in control.
A flawed implementation of push notifications will lead to undesired results and customers to churn. Here are examples of bad strategies:
Unconfigurable notification: All in or nothing. Customers can only activate or deactivate notifications and have no ability to determine what they'd like to be informed and how often
Aggressive sales: It's unlikely that customers will convert because you're persistent in your message. Reaching out more often can lead to customer churn
Only using one medium: Push notifications serve many purposes, but not all of them. For some messages, email could work better or even SMS. Trying to force everything at push notifications will backfire
A good push notifications strategy allows the customer to define what they receive, when, and how often. The more flexible your product is, the more customers will value it.
As a further example, let's look at an effective notification strategy from LinkedIn. You can set your notification preferences for each category. This allows their customer to receive exactly what they want: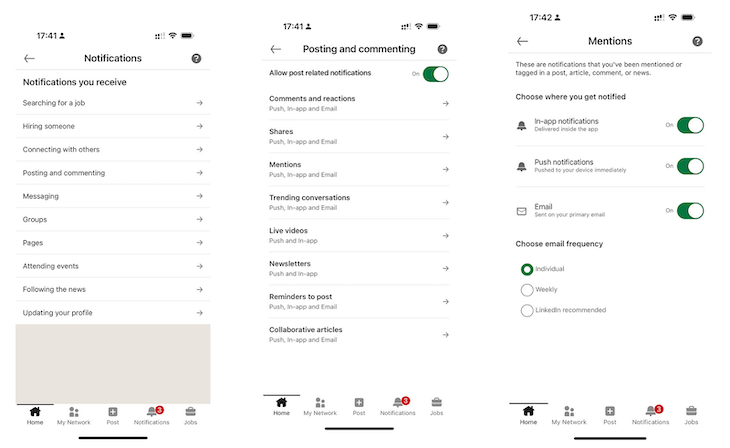 Crafting the push notification
Push notifications rely on context. The more relevant to a context, the more users will connect to it. Another key aspect is keeping the message brief and informative.
Let me give you a few examples of messages that work with me as a user:
Food delivery — I tend to order food on Fridays and Sundays. At around 6:30 PM, I often get a notification like this, "Feeling hungry? Burger Me has 20% off tonight." A good offer, matched with the context, convinces me to act
Tax Declaration — I have an app to declare my taxes, which I often do in January. The app is silent the whole year, but in January, it sends a push notification: "Time to get some money back. Shall we issue your tax declaration?"
Promotion — special dates tend to get significant traction. Valentine's Day, Christmas, Black Friday, Cyber Monday, etc. Send a message that matters to your audience. This February, I got something like this, "Lacking creativity to surprise your partner? We got you covered." I opened it and got a nice deal
Push notifications will work when the context is relevant, the timing is precise, and the message is sharp enough. Users don't read long messages, ignore irrelevant ones, and laugh at outdated notifications.
Test, Test, Test
You won't get your notifications right from day one. Getting them right is more of an art than a science.
Only your audience can define what works best for them. For example, should you be formal or informal? Should you use an image or not? Should you use in-app notifications or push-notification? You can only get answers to such questions by testing.
Segmented tests, better known as A/B testing, can help you understand what works best for your audience. Simply put one variant against the other and evaluate what triggers the behavior you want more often, then gradually improve this version until it reaches desired results.
It's common to start on a high level. For example, a notification with an image and one pure text. Then, you compare long texts with short ones, formal with informal, and questions with answers. Be as creative as possible. As I said, it's an art, not a process.
Never compromise user experience
When I first started working with push notifications, it fascinated me. I started putting too many notifications that compromised the user experience and it didn't take long to cloud my judgment.
Unfortunately, it's hard to be precise on what to do and what not to do because your context, audience, and scenario matter a lot. Some general tips are:
Reflect — if we don't notify them, would the user naturally arrive at the desired behavior? If yes, don't bother with the notification
Balance — no notifications mean missing opportunities. Too many may annoy users. The secret lies somewhere in between. Once you find balance, you'll increase engagement
Know the boss — users are the bosses, not you. Let them decide when to be notified and when not to. If your notification matters to them, they will naturally activate it.
Final thoughts
Push notifications can be powerful, but also annoying.
I have apps with none of my notifications on, and I have other apps with all of my notifications on.
---
Subscribe to our product management newsletter
Get articles like this to your inbox
---
When you only adhere to your needs, your push notifications will annoy users. But, if you consider what the customer wants, you can send them relevant content they'll appreciate.
LogRocket generates product insights that lead to meaningful action
LogRocket identifies friction points in the user experience so you can make informed decisions about product and design changes that must happen to hit your goals.

With LogRocket, you can understand the scope of the issues affecting your product and prioritize the changes that need to be made. LogRocket simplifies workflows by allowing Engineering and Design teams to work from the same data as you, eliminating any confusion about what needs to be done.
Get your teams on the same page — try LogRocket today.