Are you faced with setting milestones for a project? Or maybe you are curious about project milestones and how business growth impacts them. Well then, you are in the right place.
Project milestones are essential for the success of any project. Teams use milestones to set realistic goals and ensure trackable progress.
In this article, we will discuss the meaning of milestones and how they are defined. We will also learn how milestones evolve as the business grows and how to set realistic goals using milestones.
---
Table of contents
---
What is a milestone?
A project milestone is a significant point in a project's life cycle. It is used to track progress, provide a sense of achievement, and focus attention on key deliverables: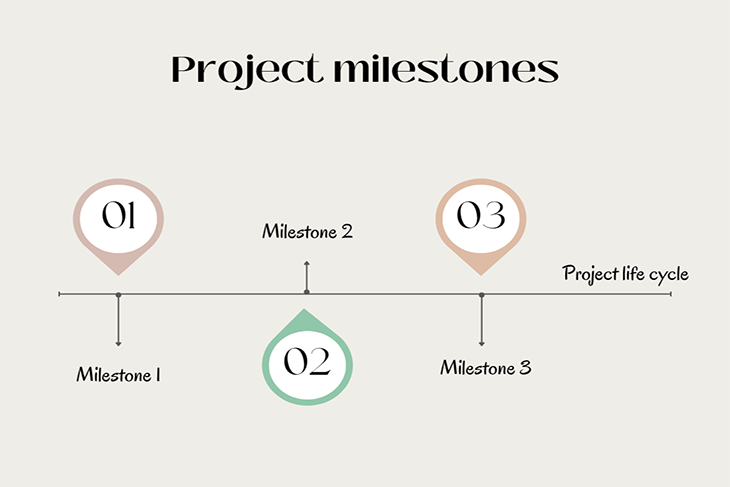 Milestones help the project manager and contributors stay focused while avoiding scope creep (unexpected work that expands the project). Milestones are also useful in estimating completion dates, measuring performance and quality, and sometimes motivating project stakeholders.
How are project milestones defined?
When you know what your goals are and have a plan to achieve them, it's time to define the project milestone.
A good rule of thumb is that a milestone should be defined by something tangible — that is, something you can see and feel. This might be an event or an accomplishment that indicates progress toward your goal.
For example, let's say the project goal is to onboard five corporate clients on your product in Q1 2023.
The project milestones could be:
Complete product deliverables
Engage corporate clients
Sign partnership agreement
Onboard clients successfully
Milestones can also be based on measurable outcomes towards a 100 percent completion. For the project above, milestones could be to onboard at least one client every month in Q1 2023.
A project milestone could also change from one behavior to another. For the project example above, milestones may include determining new verticals to focus on, confirming market interest, implementing new communication and marketing channels, engaging target customers, and onboarding customers in the new vertical.
What is the process of splitting a project phase into milestones?
Here are some steps to follow when splitting a project into milestones:
1. Create a project timeline
A project timeline is the first step in splitting a project into milestones. It makes it easier to break down deliverables and manage overall expectations when there is a clear timeline for the project. To create a project timeline, simply set the start and end dates for the project. This will typically be an estimate; though it is best practice to consider internal and external dependencies such as employee time off, changes in customer needs, a company-wide activity, etc.
2. Identify milestones and ownership
Next, break down the project into milestones. We have explained milestones to be specific, significant points in the project's life cycle. Essentially, it is a group of related tasks that accomplishes an important goal. Also, if there are other key contributors to the project, assign owners to each milestone for accountability.
3. Prioritize milestones
The milestones must also be prioritized to set deadlines and complete them on time.
If you're unsure how to prioritize tasks, ask yourself these questions:
Which task is most urgent?
Which task will take the least effort?
Which task has the most impact on the project?
Which task will help you complete another task?
You will want to prioritize the tasks based on urgency, impact, potential dependencies, and sometimes the effort involved.
4. Set deadlines
Finally, set delivery timelines for each milestone. Setting deadlines enables you to track progress and keep your team focused on the most important tasks at every point. It is also useful to identify delays early and make necessary adjustments.
5. Get stakeholder alignment
This is an optional step. For larger project teams, it is important to align stakeholders around the defined milestones. Seeking alignment enables project managers to identify gaps and expose parts of the project that need further review. It could also be an opportunity for project managers to get senior stakeholders' perceptions of a suitable milestone.
How do project milestones evolve as the business grows?
As a business grows, project milestones evolve. Small companies focus on setting up the business to operate functionally and meet targets to keep the business alive. Such milestones could include getting a license to operate, having a clear positioning, finding a manufacturing partner, getting pre-seed funding, etc.
However, as the business grows, milestones are more representative of the scaling effort and growth, such as onboarding the next 100,000 customers, expanding product offerings, and even acquiring smaller businesses to extend their operations.
Larger companies are typically more ambitious, which impacts how milestones are defined and what significant progress is. For example, for a project goal to break into new markets, a small business with less than 50 employees may target one new country a year. In contrast, a company at the growth stage with 1,000+ employees may target launching its products in at least three countries every year. Enterprises are expected to meet higher standards; hence, their stakeholders are more demanding.
---
Subscribe to our product management newsletter
Get articles like this to your inbox
---
The planning phase for setting up milestones is also crucial. As the business grows and acquires more customers, certain decisions are more impactful. Therefore, how milestones are defined will need to be reviewed and approved by senior stakeholders before implementation. There are also more contributors in larger companies than in smaller ones to ensure project milestones are delivered on time.
Growth comes with new challenges. Defining, communicating, and managing milestones for larger projects could be a hassle if not done effectively. You'll need to update your business processes to accommodate these changes, leading to more efficient collaboration and better results for all stakeholders.
The more people involved in your business, the more complex it becomes to keep track — which is why a project management tool is essential. The difference between a successful and a failed project is how well you plan, schedule, and communicate with your team.
How do you set realistic goals using milestones?
Now that you have learned about milestones and how to define them, let's look at the various ways you can ensure success by setting realistic goals.
1. Set SMART goals
The project manager can set SMART (specific, measurable, achievable, relevant, and time-bound) goals for each milestone. The SMART "formula" helps determine the milestones most important to the project's success and ensures task feasibility is considered.
2. Assess the team's availability and commitment
The project manager should also assess the team's commitment to the success of each milestone. Questions to ask include:
Do assignees have adequate time to take on related tasks?
Do we have the necessary skills to perform well?
Is the team committed to this project's success?
An affirmative response from project members is needed for a successful project. It often helps to get buy-in from cross-functional team managers to ensure project contributors' commitment.
3. Examine risk factors
Project managers should examine internal and external risk factors that may affect the outcome of each milestone before establishing a list of activities to complete by a certain date or period. The project manager should also review this list with stakeholders periodically throughout a project to identify and address any issues early on.
4. Ensure proper task prioritization
The project manager should also determine if there are any dependencies between milestones and activities. If so, they should establish a critical path of tasks that need to be completed for each milestone to be successful. This information could then be used to assign resources using tools such as Microsoft Project or Asana.
5. Maintain on-time delivery
Don't fall behind on your schedule (and let's face it, we've all been there). If there are challenges at any point in your project lifecycle or if a stakeholder requests an update from you sooner than expected, then move forward with caution!
If you're falling behind on your schedule, do not assume you will meet the pending deliverables with the earlier stipulated timeline. Rather, consider reviewing timelines for upcoming tasks and seek ways to work smarter.
Conclusion
At its core, a project milestone is a checkpoint that indicates you have reached the next step in your project. It can be as simple as completing part of your design, or it could be more complex, like submitting plans to a government agency for approval. Milestones are also useful because they help us track where we are with our goals — they provide structure and accountability while allowing flexibility in reaching those goals.
The critical thing to remember about milestones is that they don't always look the same from one project to the next. Hence, expect the milestones to evolve as the business grows or new processes are introduced within the business.
Featured image source: IconScout
LogRocket generates product insights that lead to meaningful action
LogRocket identifies friction points in the user experience so you can make informed decisions about product and design changes that must happen to hit your goals.

With LogRocket, you can understand the scope of the issues affecting your product and prioritize the changes that need to be made. LogRocket simplifies workflows by allowing Engineering and Design teams to work from the same data as you, eliminating any confusion about what needs to be done.
Get your teams on the same page — try LogRocket today.