Value chain analysis helps companies see the relationship between value-creating activities and their capabilities. Resources and capabilities are important, yes, but value-creating activities are where the rubber hits the road. Companies who understand the activities' power can start creating a strategy to beat their competitors.
In this article, we'll talk about value chain analysis and how we can use it to create more product value. We'll talk about how we can cut unnecessary processes and reduce costs through value chain analysis, and I will share details about activities that can create core or distinctive competencies. We will understand this by comparing apples to apples! 🍎
Without an overall analysis, the decision we make can create poor results. So, we will understand the details of the analysis with real-life examples. Results can show either how we can beat competitors with a differentiation advantage or beat them with cost advantage strategies.
---
Table of contents
---
What is a value chain?
A value chain is a continuous activity series that your company performs for providing a service or product to the customer. Michael Porter created the first value chain model in his book Competitive Advantage: Creating and Sustaining Superior Performance. As the book name shows, the concept is an analysis method for companies' competitive strategy. For that, we again start to determine the competitive power of a company's resources and capabilities.
The value chain is every step we take to create a product — from the raw materials and brainstorming phases to warehousing and transporting the product. Michael Porter divides this into primary activities and support activities.
Primary activities are supply chain management, operations, distribution, sales and marketing, service, and profit margin.
Support activities are product R&D, technology and system development, human resource management, and general administration.
What is value chain analysis?
Value chain analysis is a method that companies use to find their competitive advantage and achieve higher profits. They can do this by identifying each step of the product. Everything is important for the product's route, from beginning to end.
Early stages for products, such as designing processes to deliver products to users, are within the value chain analysis scope. We should observe each activity by how it's creating value for customers and see if it can be done more efficiently and effectively while also taking competitors into account.
I'm more used to doing product value chain analysis in software companies, but this analysis is famous for all industries. Single or multichanneled industries can create the best use of this analysis. To cover an industry analysis, we should prepare internal, supplier, and forward channel processes.
For example, the materials we buy for producing our product are a cost for us. If we know the other suppliers' value chain, we can see the profit margins suppliers add for each material. We can create profit before we start to analyze our processes.
Similarly, if we know how many partners suppliers have, we can eliminate the brokerage firms that increase the prices. With this analysis, we can see the costs that end users cover and decide to solve that problem for them, thereby increasing customer satisfaction.
In a summary, value chain analysis is here to show us unnecessary steps, value-added steps, and high costs.
How to do a value chain analysis
A value chain analysis starts by separating companies' processes into primary and secondary activities. Don't forget that we are trying to find major processes that create costs, particularly ones we need to pay attention to while doing this.
We should check the cost factors for related processes to understand the costs each process creates. We can think of this analysis as a supportive analysis for SWOT, benchmarking, competitive analysis, and best practice methods. It's important to try to do the same steps for at least our top three competitors.
Our analysis does not end with only our company structure. To be able to cover all costs, we should add supplier-related and customer-related value chains into the analyses.
How does value chain analysis help the business?
The value chain analysis benefits can be summarized as follows:
Product value helps us find the company's primary activities so we can differentiate activities that can create product value
Visualizing structure helps us see value-added activities from a wider perspective
Cost advantage helps us find activities that create extra costs so we can eliminate them
Outsourcing helps us decide which activities can be outsourced
Differentiation helps us understand unique activities to our product so we can invest more in differentiator points
Value chain analysis can help us find our product strategy and distinctive competency. For example, our unique activities can become our distinctive competency. On the contrary, we can already have a strategy and want to implement it through the processes. Value chain analysis will help us to find the correct step to start from.
Every business bears the burden of processes done without writing documents in old projects. Old products especially have unnecessary processes and costs. After two years, one of our products became a stable position in the industry. We had active users but the pace was slowing down. The server and storage costs were increasing and our profit was decreasing day by day. We decided to decrease the costs and our value chain analysis adventure began.
First, we listed the cost processes and analyzed the steps according to their values. After some time, we got no results. We couldn't understand which step(s) should be shut down.
Then we did it properly. We started by listing processes and checked the analysis again. But we still got no result! We decided to analyze the first versions of the product and listed the old, closed components. The results were not surprising — we were carrying old components with us and they were consuming quite big amounts of our resources.
Lessons learned, we became more aware of closing every feature and were careful about the burdens they can create. Our costs instantly decreased and we used that resource in our new project for free! 💰
---
Subscribe to our product management newsletter
Get articles like this to your inbox
---
Evaluating the two advantages of a business
Value chain analysis is not a decision method for our product strategy. It is a good method to visualize our strengths and weaknesses.
We can see the problem inside the analysis and change the process, but it has no promise to create a differentiator point. With value chain analysis, we will see how we can create an advantage for our product: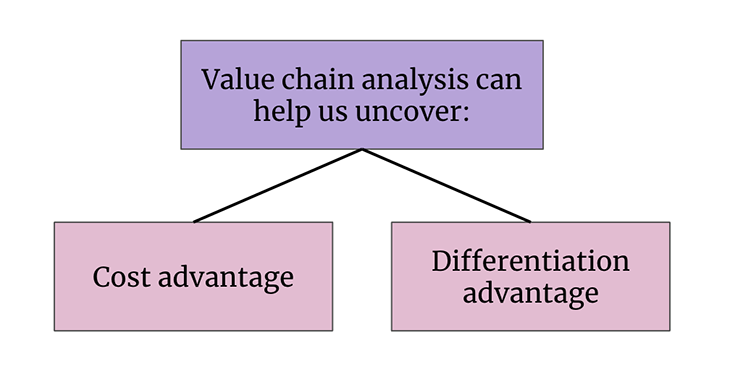 Cost advantage
Let's start to implement our value chain analysis results into our strategy. Let's say we aim to achieve a cost advantage over competitors. Listing all our cost processes will be the first step.
Cutting prices is not a maintainable strategy — it will not attract customers continuously. But, decreasing costs will make us gain more profit in the short term. Knowing our competitors' cost structure gives us more power in price competition.
We should create an overall value chain for our product and competitors. Then, we'll start to find cost-effective methods within our value chain processes, maybe not even through decreasing or bypassing the cost-producing processes completely.
For bypassing, we use MVP (minimum viable product) or prototype methods — i.e., building only the must-have product features. This can mean cutting delivery costs and product lines and closing some services.
The MVP or prototype methods can be applied without a value chain analysis, unlike eliminating low value-added or unnecessary processes. So, focus on the cost-value comparison in the analysis. A successful cost advantage strategy requires us to perform value chain activities by cost efficiency, providing products to users faster and more accurately.
Differentiation advantage
On the contrary to cost advantage, a differentiation advantage requires finding a product that people will be happy to pay higher prices for. We have to support the costs that create differentiation, even if the costs are high. We have to analyze the competitor's value chain and customers' needs and behaviors.
The value chain analysis will list the product features and the profit we gain for each process. We need to keep investing in R&D activities and continue to provide high quality to maintain customer loyalty. According to the analysis results, we can select high-value features and improve them.
For keeping the differentiation advantage, we should have high switching costs, relationship-based services, patent protection, etc. The analysis will help reallocate resources to important activities.
Looking into competitors' value chains will help find superior differentiation capabilities and convert them into core competencies. If we achieve core competence continuously, we can evolve core competence into a distinctive competence. This is the permanent solution — how we can beat competitors in the long term.
Understanding different types of activities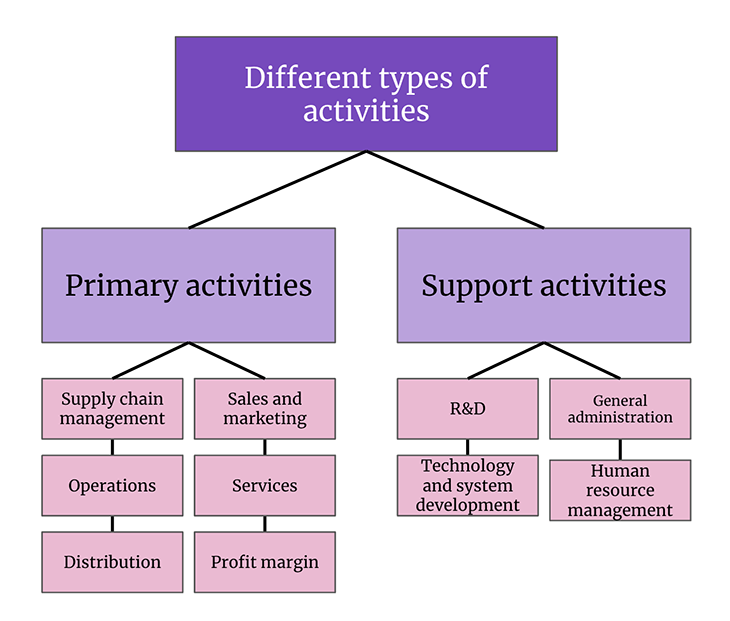 Primary activities
To recap, primary activities are supply chain management, operations, distribution, sales and marketing, service, and profit margin.
Now, let's explain these as if we are an e-commerce company:
Supply chain management includes activities like receiving products from suppliers, storing items, and shipping products to users. Supplier management, inventory management, carrier management activities, costs, and used assets are the main processes.
Operations include activities like transferring products into locations inside warehouses and picking, sorting, and packaging them. If we have equipment like conveyors or automated storage systems, their maintenance and quality assurance are inside operation activities. The costs within the warehouses will be calculated for operation. Warehousing is one of the biggest cost processes, so e-commerce companies are trying to use third-party warehouses or marketplace methods to avoid warehousing costs.
Distribution includes the carrying (shipping) and delivery vehicle operations of the products to customers. From the warehouse to the users, all costs can be calculated as distribution. These costs are really high, that's why almost all e-commerce companies are using their own carrier company to convert cost into profit.
Sales and marketing is the cost we face for our applications' marketing. Promotions, sales team efforts, category team for selecting products, advertising, and market research costs can be added inside this process.
Services are all the activities we use to help suppliers and users, such as call centers, seller portals, and the return process for canceled orders.
Support activities
We can think of primary activities as distinctive competencies and support activities as core competencies. They do not have a direct influence on creating differentiation, but they are creating an environment to support it.
Support activities are product R&D, technology and system development, human resource management, and general administration.
In our case, product R&D, technology, and system development are the cost processes that the engineering team creates. Assets, product research, database requirements, server needs, support team efforts, software development, etc. fall into this category.
Human resource management costs are not just hiring, training, recruitment, and motivation activities. Creating a core competence with training, knowledge transfers, and skill-creation activities includes these costs too.
General administration is all about the management of legal, accounting, finance, security, and strategic partnerships. C-level decisions and overall safety and collaboration activities can be added here too.
Tools for value chain analysis
We are doing a value chain analysis to assess the costs and effectiveness of our products. How we can list true results depends on our approach. There are different approaches, such as benchmarking, best practices, and more.
Benchmarking is a tool for understanding our competitors' primary and support activities and their value-cost approaches. It helps us understand if our product is cost-competitive or not. We should select the companies to analyze carefully and can select them from other industries, but the comparison can create wrong conclusions. We can also check for internal activities or all value chain processes. These can change according to our needs. For example, if we are product managers for an e-commerce company and decrease our cargo costs, we can check carrier companies and their value chain activities.
Best practices help us create the best results and compare other approaches. It is a continuous way to decrease costs and find more effective ways to improve activities. For example, best practice methods can show that opening our own carrier company will create a highly positive outcome.
Conclusion
Value chain analysis or benchmarking is not the hard part of this process. Finding a way to create a cost advantage or differentiation advantage is.
Sometimes, we create reports with many pages without hitting any solution. In these situations, we should consult customers, suppliers, analysts, and anyone with knowledge about the industry. Starting an analysis is not enough — we should be someone who ends with a result.
LogRocket generates product insights that lead to meaningful action
LogRocket identifies friction points in the user experience so you can make informed decisions about product and design changes that must happen to hit your goals.

With LogRocket, you can understand the scope of the issues affecting your product and prioritize the changes that need to be made. LogRocket simplifies workflows by allowing Engineering and Design teams to work from the same data as you, eliminating any confusion about what needs to be done.
Get your teams on the same page — try LogRocket today.