Have you ever wondered how employees at companies make decisions on what and how they build products? Believe it or not, it's not just a random occurrence that a product gets built, gets into the hands of the right customers, and is actually adopted and loved by said customers.
There are a series of repeated processes and actions that companies deploy to build the right solutions (on purpose). The framework within which product decisions, processes, and actions are made is referred to as project governance.
In this article, we'll learn all about project governance and how to build it out in your organization.
---
Jump ahead:
---
What is project governance?
As mentioned above, project governance refers to the guidelines and principles that dictate how decisions, procedures, and activities related to a project are carried out. It's broader than product management, as these processes and methods for making decisions should be constructed by senior management (and other vital stakeholders).
However, project governance and product management are extremely similar — project governance does include the management of processes to build the correct products (which is essentially the foundation of product management).
In a perfect world, one can think of project governance as the guidebook that product managers must follow (and help evolve) to build, release, and bring products to market. However, in many smaller startups, you will find that product managers are the ones responsible for project governance as a whole.
So if you are reading this and thinking, "This is just product management," then I have a question for you! How does your neck feel under the weight of wearing all those hats? It's okay, my neck hurts too.
Jokes aside, I have been in many situations where project governance, as a company's management framework, was not established. It was absolutely product management's job to create this framework of processes and ensure everyone was following it. Something-something, influence without authority, something-something, right?
You could argue whether it's better to have classic project governance in place or just have product management own the whole thing, but one thing is for certain: product is the biggest player in project governance.
Why is project governance important for product managers?
Project governance is nothing without input from product managers. If you want to stay truly agile, your product processes and actions should always be reviewed and improved. Senior leadership, who is often further removed from the customer and the market, will not just nail this management framework out of the gate. Project governance should therefore be an ever-evolving collaborative framework that the product team heavily influences.
To build successful products on purpose, you have to identify and repeat the processes that work. And those identified processes, activities, and rules that you and your company apply to achieve repeatable product success affects the product's bottom line.
Project governance frameworks and models
While there are a variety of different project governance frameworks online, most of them share the same fundamentals. It's all about the people and the information you have.
People
There are two specific types of people needed in project governance. There needs to be people who are involved in shaping the actual processes and there needs to be people with whom the processes themselves are involved.
Classically, a mix of senior leadership will set the processes and activities needed and on project "champion" will be in charge of ensuring the processes are followed. I think good project governance requires more input from other stakeholders and people in the company — especially product managers.
Product managers are on the front lines doing the research, collaborating across all departments, working with customers, shipping products, and tracking metrics on how well their products are doing. Product should be providing the most input into how to create and improve project governance frameworks.
Additionally, since both the successes and failures of the products are product's responsibility, it is natural that the PM would take ownership (aka that "champion" role) to ensure the team is following the correct processes and activities.
Of course, leading by influence and without authority requires PMs to get creative in making sure the project governance framework is being followed. It is important for PMs to flex and enhance their cross-functional, communication, and political skills for this reason.
Information
You absolutely need information (like qualitative or quantitative data) to make sound product decisions and improve your processes. As discussed in my previous article about after-action reviews, reviewing data, gathering customer feedback, and collecting information from other departments is a vital aspect in constantly improving your processes to better ensure product success in the future.
Therefore, companies must rely on information and data to continuously improve these processes in their project governance framework.
Best practices for project governance
Absolutely rely on your colleagues' strengths and collaborate on your project governance framework as a team.
Project managers are going to be the best in controlling project progress, identifying blockers, and ensuring things release on time.
Sales and marketing are going to be the experts at identifying marketing campaign efforts, who to target, and how long the sales cycle takes.
---
Subscribe to our product management newsletter
Get articles like this to your inbox
---
Customer success and support talk to customers every day and are a great source of information, feedback, and a general pulse on things.
Engineers are the ones who can tell you what is possible to build, the options for cutting scope, and how long things will take.
And as a product manager, not only are you defining the roadmap, what you're building, and why, but you can also bring everyone's powers together to form a process that keeps everyone informed, releasing on time, making the right decisions, collaborating together, and achieving greater product success on purpose.
If you are trying to establish project governance for the first time at your company, you may want to try a smaller experiment first! When working on a large release effort, you can gather representatives from each department (finance, legal, customer success, engineering, marketing, sales, etc.) into a "task force."
Set a meeting and open up the floor to any open questions or concerns the reps have regarding your project. You will find very quickly that there are lots of moving parts and processes that you had no idea needed to exist!
For example, maybe the product you are developing introduces customer data that you didn't have before. Legal was able to hear about it due to the task force and brought up the fact that you need to update the terms of service. Wow, sure glad we caught that! Now you know from experience that checking legal documents on the website is essential when releasing new products. You can add this process to the project governance framework for the company.
Tools and software for project governance
I find Gantt chart tools like ClickUp, or even something as simple as Excel or Google Sheets, are good enough tools to keep track of open items, due dates, and reminders for those on your team. You don't have to get really fancy with it so long as you have the information accessible and easy to keep up to date.
ClickUp
What is awesome about ClickUp is that you can use a Gantt chart, a table, a calendar, a Kanban board, or a classic list to organize your project: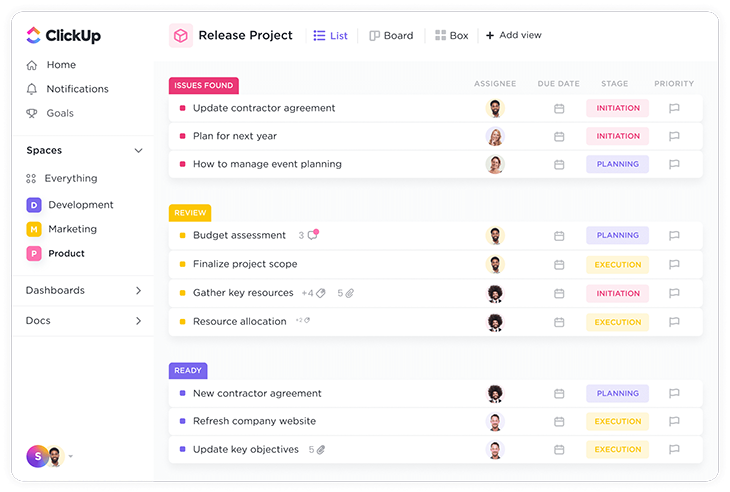 ClickUp is fully customizable, so you can bucket your to-do tasks and statuses in any way that makes sense to your org. What is particularly great about ClickUp for project governance is that you can actually assign people to tasks. This allows that person to see the tasks themselves, update their statuses and make comments, as well as receive reminders when due dates are close: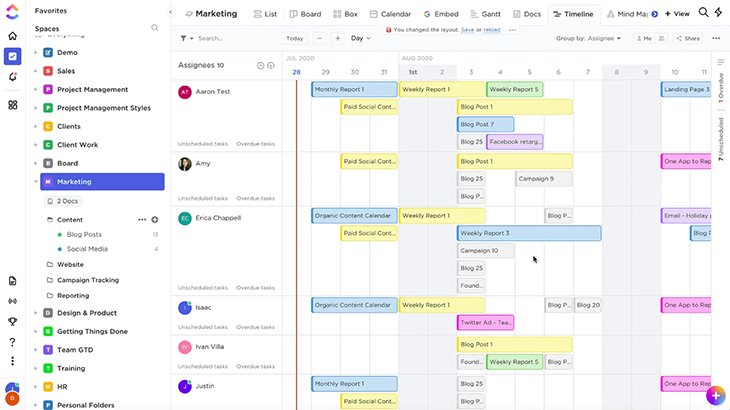 Viewing your list as a Gantt chart is a great way to get a bird's eye view of the project so you can identify gaps and provide time estimates to senior management.
Excel
You can use Excel to keep track of your projects as well, although you could be more limited in how you view the information, depending on how advanced your skills are.
Still, if you're ballin' on a budget, Excel will still allow you to make beautiful Gantt charts as well. There are free Gantt chart templates online so you don't have to worry about building them out yourself: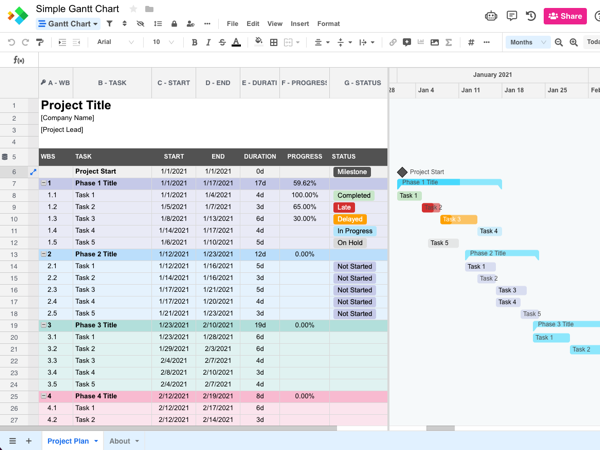 You can use this template online here. As you can see, you can still get quite a lot of functionality that you would in a tool like ClickUp, but the cons are that you cannot collaborate as easily with other people given the lack of functionality used for assigning tasks and the lack of space for communication. You can still absolutely make it work for you.
Alternatives: Google Sheets, Numbers
Conclusion
Project governance can seem overwhelming and too nebulous to achieve at your company when looking at it as a rigid, never-evolving framework. Instead, it should be a flexible, agile framework that moves as the market and technologies shift.
The purpose of project governance is not to punish and limit the team, it is to identify and repeat processes and activities that ensure product success.
Featured image source: IconScout
LogRocket generates product insights that lead to meaningful action
LogRocket identifies friction points in the user experience so you can make informed decisions about product and design changes that must happen to hit your goals.

With LogRocket, you can understand the scope of the issues affecting your product and prioritize the changes that need to be made. LogRocket simplifies workflows by allowing Engineering and Design teams to work from the same data as you, eliminating any confusion about what needs to be done.
Get your teams on the same page — try LogRocket today.