Creating a competitive advantage is a long process, starting from the very beginning of forming the company's culture, mission, and vision. You can likely see the advantages you can create while you are creating the company's mission, aka the summary of why your company/product exists, which customer problem you aim to solve, and your overall goal.
At the end of the day everything is defined for creating customer value, which generates profit for the business 🤑
The role of a competitive advantage is then to make sure that you are creating and delivering the customer value as you planned.
In this article, we will learn the story of competitive advantage. We will understand the process to analyze our product and market, how we can state our strategy inside the market, and how we can test our options. By the end, we will learn how to sustain a competitive advantage with best practices and real-life examples.
---
Table of contents
---
What do we mean by competitive advantage?
Competitive advantage is the capability you have over competitors to create value for customers. The advantage creation process starts from the mission, which usually coincides with the inception of the company in the first place:

The strategy of your company may be different, but each decision you make and feature you define aims to achieve a competitive advantage. If I still can't emphasize how important competitive advantage is, think about it like this: every goal we want to achieve in our daily lives as product manager serves to create a competitive advantage.
You can say you achieved a competitive advantage if:
You are offering something different than your competitors
Your company's strategy is different than other companies
You can create more economic value with your product than your competitors
As product managers, our role requires us to carry the company's mission and objectives into our product. To do this, we have to analyze the market, external competitors, our product, and internal company capabilities. According to our analysis, we create options and select our strategy.
The type of choices we make shapes our goals and how we want to compete with our rivals. The decision we make puts our product into one of two categories and helps shape our competitive advantage:
1. Niche product
When you have a niche product, users prefer your product because it creates a unique output — something they can't get elsewhere. Users will often pay extra for this.
I love to provide Apple examples in these cases. Apple products offer you premium features and users don't mind paying the required amount. Think of new iPhones or Mac laptops — the experience they provide isn't easily replicated by competitors. With a niche product, however, don't forget there is always a risk of being copied. The challenge for this method is protecting your uniqueness.
To continue with modern examples, think of how Instagram creates a unique platform for sharing photos, the same way that Twitter does with small posts and that Facebook does for longer posts and videos.
When we think of a niche product, I can't skip the classic example of Coca-Cola. With its unique recipe, no one has been able to replicate or get close to it.
2. Cost advantage product
While making the product, your company should have a production or distribution advantage over rivals. With a cost advantage, you can sell your products at competitive prices.
We can think of big brands for this — because of their high production amounts, they catch a cost advantage opportunity. Walmart can be one of the best examples of this strategy. They offer very low prices and for that reason, people choose to shop there over other stores.
How to identify and analyze your product's competitive advantage
Competitive advantage can only be created after a strategic management process. As product managers, we identify the differentiator points and amplify them to create a competitive advantage: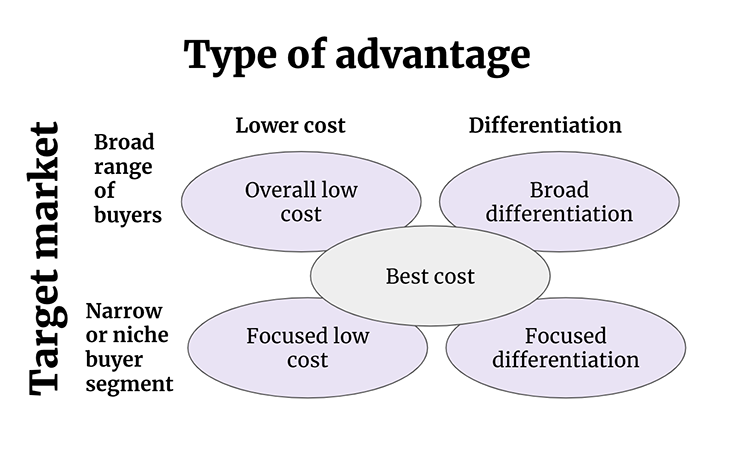 The decision we will make will be between the type of advantage we seek and the target market. I recommend you start with your target market.
If you still haven't read Start with Why: How Great Leaders Inspire Everyone to Take Action by Simon Sinek, I recommend that you start asking why 🧐 For example, why will users pay for your product and why you are producing this product in the first place?
The second big decision is what kind of an advantage you seek. This is the time to bring your analysis and every input you have to the table. Lower cost or differentiation has its levels like in the picture above. You don't have to focus on a pure version of these, though, you can mix the customer need and market situation and create an in-between.
As we discussed earlier, to be able to create a competitive advantage, you should select one of the strategies from your analysis. How can you decide which strategy is the best? Your winner which will become your advantage should pass at least three tests:
1. The fit test
For the first test, we go over the company's vision, mission, objectives, and company structure. We may know the problem, but our approach to solving it should fit our company culture and internal dynamics. We search for the best fit according to our internal and external analysis.
2. The competitive advantage test
You may find a good competitive advantage, but it is not enough if you can't sustain it. We mentioned finding an advantage, but now we will test if it is likely to sustain our strategy (like Coca-Cola).
The competitive advantage can be easy to imitate and we may only have a first-mover advantage. This option has a risk if you are investing more and competitors will be able to access the technology behind your product easily. They may even beat you with lower-cost strategies. For these reasons, you should have a good plan to sustain the advantage you created.
3. The performance test
Performance is the profit you will generate with this advantage. At the end of the day, we are seeking profit and the higher value advantage will most likely be our winner. You need to create a value proposition model for each option.
Additionally, you should check the product's performance, strengths, and the market around it. Use product metrics to see how it's doing. The performance of the product can be determined with all of those components.
What does it mean to have a sustainable competitive advantage?
In the competitive advantage test, we are checking if the strategy is sustainable or not. Do not worry if you think your advantage will be imitated by your rivals. Most competitive advantages are brilliant ideas and most of them will be copied in a way. Your rivals will find a way to offer a better solution by using your idea.
Sustainable competitive advantage means you earn high profits with this strategy and the money keeps coming in the long term. However, as you can imagine, the more profit you get, the more competition you will create. And that's not all, this competition will decrease your sustainability in most cases.
If you succeed in creating an advantage that's hard to imitate and competitors are unable to find your source, you can say that you have a sustainable advantage. In some product markets, competitors may not imitate your product directly — they may offer a better solution and attract your customers. This example can be seen mostly in the service industry.
Coca-Cola has a sustained product strategy as they kept their formula impossible to imitate. They've updated their recipe but still have never had a competitor that copied their recipe or flavor exactly. There are other components supporting this success, such as marketing and sales teams.
When you create a good strategy and opportunity, sustaining the success can be done through all sources of the company. However, do not forget that even sustainable competitive advantages may expire in time.
How to strengthen your product's competitive advantage over time
As a product manager, finding our own (as well as our competitors') product strengths and weaknesses is our main duty. However, creating a competitive advantage requires a good strategy. You need a strategy to succeed.
What makes a good product manager is the agile modifications in your strategy over time. If you are persistent to continue in the same strategy, know that your advantage is going to go away.
The below list is variables that you need to be aware of to avoid being beaten by your rivals:
Following the needs shift in the market conditions
Using the latest technology
Following the trends and market opportunities
Knowing every move your competitors take
Knowing customer needs and changing tastes
Creating continuous ideas for the product and the strategy improvement
Time is crucial for even the best things. When the time comes, you should be able to point out the elements or strategies that should be abandoned. A product's strategy includes everything from abandoned features, new planned initiatives, ongoing strategy, and new elements to adapt to changing circumstances.
The company's strategy acts as a roadmap to our competitive advantage, along with the long-term plan to beat competitors in the market. And to be able to call yourself a good product manager, you should have a good strategy and good execution capability.
As the product manager, you should be able to address the solutions to possible obstacles the company may face. You should have the answers below for long-term success:
How can we beat our new rivals?
How can we sustain product growth if our user count decreases?
How can we adapt if our customer base changes?
Should we reduce costs and compete using discounting?
Should we partner with a rival that has a capability we don't have?
Should we expand our business into different countries/demographics?
Should we find new product lines or substitute products?
This continuous questioning process will help you to maintain and strengthen your product's competitive advantage.
Best practices for leveraging competitive advantage in product development
There are a few practices and tools to help you land your competitive advantage through research and market analysis, including value chain analysis, SWOT analysis, and weighted competitive strength assessment.
Value chain analysis
Product value chain analysis is an effective method to convert your company's activities into a competitive advantage. This method helps companies understand their own processes better and, with the help of that knowledge, create an awareness of the company's strengths.
Analysis starts with dividing a company's process into primary and secondary activities. Primary activities show us what to focus more on the processes that create higher costs and analyze more to decrease them. Primary activities are most likely competitive advantages that we have over our rivals. Secondary activities show us the unnecessary processes so that we can eliminate them to create a cost advantage.
SWOT analysis
Strength, weaknesses, opportunities, and threats are the key elements of this analysis. You can use SWOT analysis to find your company's competitive advantage options:
Strengths — Internal strengths are the basis for our strategies
Weaknesses — Internal weaknesses are our deficient capabilities
Opportunities — Market opportunities are our objectives that will become the strategy
Threats — External threats help us create defensive points in our strategies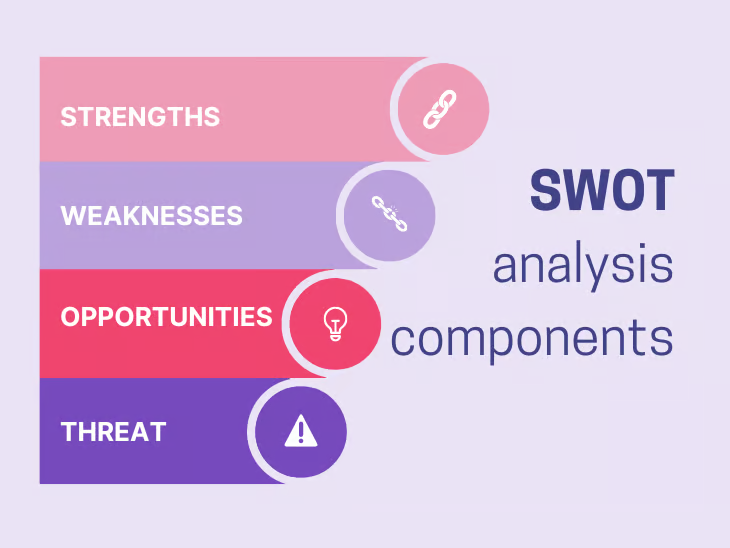 SWOT helps you to find a new strategy or recommend a new strategic action. You will have the opportunity to use your strengths while you are seizing opportunities and preventing external threats. The created strategic actions will strengthen your competitive advantage or create a shiny new one.
Weighted competitive strength assessment
Weighted competitive strength assessment is different from the other methods and helps decide which strategy to use, rather than helping find options. Each possible competitive advantage gets scored and the one with the most points dictates which creates the most value and helps us beat rivals.
To do this, follow the steps below:
Prepare a SWOT analysis or make a list of the competitive strengths and weaknesses
Prepare the market's key success factors and assign importance and weight to each strength
Add your competitors to the list and add scores on each competitive strength for all of them
Multiply the scores with importance weight and sum the weighted strength for each competitor. The overall measure will be the competitive strength of each competitor
Analyze the result ratings and create a concussion document
List the competitive advantages and disadvantages of the company
Create a strengths and weaknesses list for future strategy processes
The company with a higher weighted score will have an overall advantage within the market. The scores will help you to decide what strategy will be better for you and which will not.
Examples of products with strong competitive advantages and how they achieved them
We earlier talked about Coca-Cola and its competitive advantage. The formula of their drink is not their only competitive strength, however. They also have big, successful marketing strategies that help them to achieve being a market leader.
The Coca-Cola happiness machine and Christmas balloons can be some examples. These kinds of marketing campaigns are called guerilla marketing. The purpose is to increase market share with hit-and-run techniques. It may be a big risk for such a big company but reaps a big reward for its strategy. Coca-Cola takes these kinds of risks and collects the rewards.
Another example is WeChat in China, which created a blue ocean strategy with a next-generation product. Their mobile payment application was using QR codes on smartphones. This strategy is called first-to-market or leapfrogging. They found an opportunity and turned it into a competitive advantage. First movers always have the biggest share in the market so they have a strong competitive advantage.
Another strategy to keep your competitive advantage is an investment in R&D. Technology companies are in a red ocean, and to be able to keep their market share, they should be constantly on alert. Apple's strongest advantage is its continuous product innovation. They are beating their less-innovative rivals with this advantage and increasing their sales and market share.
Google invested $6.8 billion in 2012 to keep its market share and acquisitions. When other companies gain an advantage, they acquire a competitor company into their organization. They have been acquiring new companies since 2010, such as YouTube, DoubleClick, and Waze. There are hundreds of companies they have done this with and the number continues to increase.
Conclusion
Timing is important for strategic moves and competitive strategies. Sometimes, when to make a move can be more challenging than creating new competitive advantages.
I know I said that being a first-mover has a great effect on creating a strong competitive advantage, but there is no guarantee of success in any market. There are always risks when implementing something new.
Let's do our best to check the data, and know the product and market. Additionally, we should be careful to only implement strategies that are compatible with our company culture. No need to force our team members to do something different than they believe in. After you implement everything I recommended, I can only send my best wishes to you while waiting for your product to become successful 🫶
Featured image source: IconScout
LogRocket generates product insights that lead to meaningful action
LogRocket identifies friction points in the user experience so you can make informed decisions about product and design changes that must happen to hit your goals.

With LogRocket, you can understand the scope of the issues affecting your product and prioritize the changes that need to be made. LogRocket simplifies workflows by allowing Engineering, Product, UX, and Design teams to work from the same data as you, eliminating any confusion about what needs to be done.
Get your teams on the same page — try LogRocket today.