In this guide, we'll define what a business case is, help you determine when you need one (and when you don't), and walk you through a four-step process for creating a business case.
We'll also outline what you should include in a business case and provide a free template you can use when writing a business case to secure stakeholder support for your next big project.
---
Table of contents
---
What is a business case?
Every project needs the support and approval of key stakeholders before it can launch. Many project and product leaders use a project plan or charter to communicate pertinent details to those involved.
Similarly, for large initiatives that require significant resources, potential investors are presented a business case outlining the costs, benefits, business need, and risks involved.
A business case is a document that defines the value it will deliver if executed and benefits the company over the costs involved. With a thorough understanding of the components to be included and necessary resources, it is possible to create a compelling business plan.
Why do you need a business case?
If a project is green-lit without a business case, it can lead to serious issues down the road. A project without clearly articulated expectations and goals can go on endlessly and aimlessly. This leads to wasted resources, money, and time with no outcome in the end.
A business case enables you to:

Align with strategy
A business case helps to showcase how a project is aligned with the overall strategy and goals of the organization. It clearly defines the problem or opportunity that the project is intended to address.
A business case also enables you to determine expected benefits and outcomes before you start a project or initiatives, thus projecting how the project contribute to achieving the organization's goals.
Gain stakeholder support
A business case is a useful tool to provide a clear rationale for pursuing the project. A thorough business case can help key stakeholders decide whether to invest in the project by evaluating the feasibility, costs, risks and potential returns. A business case presentation gives stakeholders an opportunity to ask questions and address concerns.
Prioritize projects
A business case defines the value that the project is expected to deliver. Based on the value delivered by each project, business and product leaders can prioritize projects for budget cuts or further investments. Proper prioritization helps the organization achieve the goals aligned with the business strategy.
Track outcomes
A business case provides a roadmap for the project, including the goals, milestones, and key deliverables. Once the project starts, a roadmap helps you keep track of your progress toward project goals, including what has already been achieved and what will be delivered at the end. Providing a timely update on the project to the key stakeholders is critical for setting expectations.
When you don't need a business case
A business case is certainly helpful for large initiatives requiring support from key stakeholders, but there are some situations where creating a business case might be a waste of time.
For instance, small or low-risk projects that would not impact the organization in any negative way do not require a business case because it would not make sense to spend that much effort on a low-scale project.
A business case might also be considered superfluous for a project that is already ongoing. It can be tempting to create a business case post-launch for the sole purpose of documenting decisions made and milestones achieved. However, it's typically not worth the time investment because such a business case rarely adds any value or insights.
Before you take on the task of creating a business case, it's important to carefully consider the need and to ensure that doing so would produce valuable insights to the decision-making process. It is in the best interest of everyone to forgo the business case creation process in situations where it does not provide any additional value and to focus instead on other activities that directly impact the project.
Business case vs. business plan
A business plan is not the same thing as a business case.
A business case outlines a proposed project and its potential benefits to convince key stakeholders to invest. It typically includes analysis of costs, value to be delivered, and associated risks, along with ROI.
A business plan, on the other hand, outlines the overall strategy and goals for an entire organization. It defines the what, why, and who for the business, covering the products and services offered, target segment, marketing and sales strategy, and operational and financial projections over a period of time. A business plan is designed to help potential outside investors make informed decisions about whether the business is worth investing in.
The table below breaks down the differences between a business plan and a business case:
| | | |
| --- | --- | --- |
| | Business case | Business plan |
| Definition | A proposal for a new project or initiative | A proposal for a new business |
| Components | Analysis of costs, values to be delivered, associated risks, and ROI | Includes what, why and who for the business covering the products and services offered, target segment, marketing and sales strategy, operational and financial projections over a period of time |
| Measures | Financial metrics, such as future cash flow, NPV, IRR, ROI, payback period, etc. | Business performance metrics, such as MRR, ARR, net profit margin, gross margin, retention rate, customer acquisition rate, etc. |
| Presented to | Internal stakeholders who can give budget approval | Outside investors and company shareholders |
How to write a business case
Before we dive into steps to create a business case, let's review what we've learned so far:
A business case is a document created during the initiation of the project but is referred throughout the project lifecycle
A strong business case helps in building confidence and gaining support of key stakeholders
A business case also helps you track a project's progress over time
A weak business case that is not aligned with strategy can lead to project failure
To write a business case, follow this four-step process:
1. Identify the business need
Projects are initiated to solve a business need and achieve a value or a benefit aligned to the goals of the organization.
The first step to create a business case is to identify the business problem and define it clearly. Market research and any available data to justify the business need is helpful to include in the business case.
---
Subscribe to our product management newsletter
Get articles like this to your inbox
---
2. Explore all possible solutions
Once the business problem has been identified, the next step is to explore all the possible solutions for that problem. You can do this systematically by listing out all the possible solutions along with other parameters, such as:
The benefits of each approach
Feasibility
Cost
Risks
Time period
Assumptions
A detailed analysis of each option predicting the cash flows, ROI, and value delivered would help key stakeholders understand each solution and cross-question the assumptions, feasibility, and other parameters.
3. Propose the best approach
Set a criteria to showcase how you evaluate each solution and then come up with the best out of the list.
To set the criteria, identify attributes that closely align to the organization's strategy. For example, if the organization's goal is to increase revenue in the next year, then an important criterion might be the solution with maximum revenue projection.
List the top three-to-five attributes to evaluate alternative solutions against and rank each solution 1–5. Once you rank all of them, total the ranks for all the attributes to indicate a clear winner.
Document this process and present it to stakeholders to ensure they are on the same page with the selection process of the best solution.
4. Outline the implementation process
Once the best solution has been proposed, the next step is to think about how it will be implemented.
When it comes to planning the implementation process, you need to define:
Resources needed
Timeline from initiation till the end
Risks and how to mitigate
Milestones and when they will be achieved
Total cost involved and how much will be used by when
These four steps, when captured in detail, can help you win the support of key stakeholders and kick off your project with a solid foundation and a clear objective.
What is included in a business case?
Now that we've walked through the steps of how to create a business case, let us also take a look at what to include in the business case document to support the four steps outlined above.
Here's what to include in a business case:
Executive summary — A quick overview of the project and the topics being covered in the business case
Business problem — A description of the business problem and why it is important to solve it
Possible solutions — A list of possible solutions and how the best possible solution is identified
Project definition — Define the business objectives to be achieved along with general information about the project
Project plan — Create the project plan with key elements your team needs to accomplish to successfully achieve your project goals
Project scope — Clearly define what would be covered as a part of the project and what is out of scope to avoid any confusion
Project budget — Estimated cost involved to complete the project needs to be captured with a detailed breakdown
Project roadmap — Projection of the estimated timeline for each stage of the project to be done. Be sure to include any important project milestones
Project financials — Financial metrics depicting the cash flow, such as NPV, IRR, ROI, and payback period to help stakeholders understand the financial value the project can bring in over a period of time
Risk assessment — Capture the risks involved and the steps planned to mitigate the risks
Project stakeholders — A list of key stakeholders involved can help anyone looking at the document to reach out to them when needed. The list can include the project team, sponsoring executives, and any external stakeholders who might be involved
Business case template
To help you get started writing a business case for your next big project or initiative, we created a business case template that you can download and customize for free.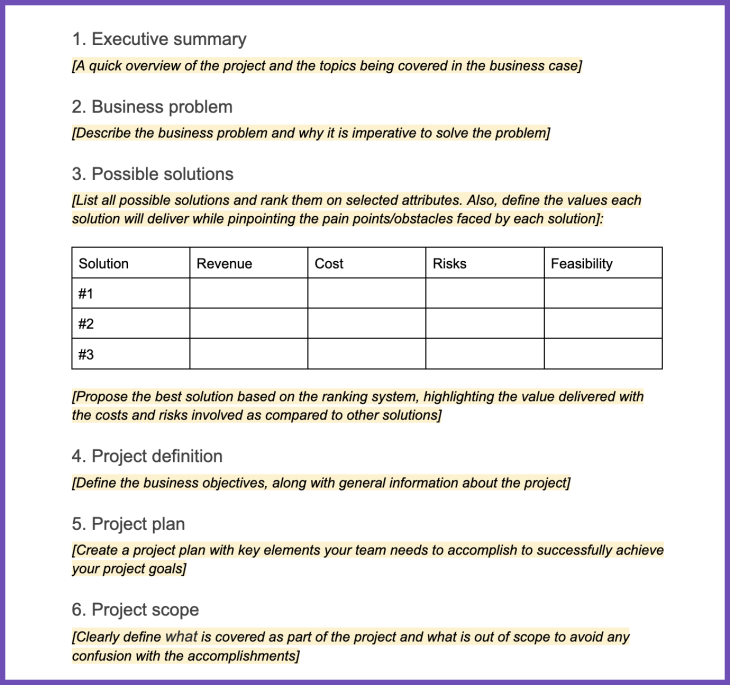 You can access this simple business case template by clicking here (be sure to select File > Make a copy from the main menu bar before editing the template).
Summary
Preparing the business case is only half the journey of initiating a project. The next step is to present the business plan to key stakeholders, answer their queries, and compel them to support the project.
Lastly, be sure to follow up with the attendees to make sure all the stakeholders are on the same page and aligned to support the project.
LogRocket generates product insights that lead to meaningful action
LogRocket identifies friction points in the user experience so you can make informed decisions about product and design changes that must happen to hit your goals.

With LogRocket, you can understand the scope of the issues affecting your product and prioritize the changes that need to be made. LogRocket simplifies workflows by allowing Engineering and Design teams to work from the same data as you, eliminating any confusion about what needs to be done.
Get your teams on the same page — try LogRocket today.