Market development is the set of actions taken to grow your business across new markets — be it by scaling your current product or by diversifying its portfolio.
A market development strategy stands for a less risky approach and helps you position your current product in new markets. A diversification approach, on the other hand, has more considerable baggage and challenges in that it stands for developing new products and services for new markets.
There are no good or bad strategies, but some strategies won't fit your business position. Of course, there are no off-the-shelf solutions, as each product and business has its unique context (goal, maturity, team skills, USP, revenue, investment, etc.).
In this post, we'll go over what market development strategy is and how to achieve it. We'll go over the key steps to creating an effective market development strategy, as well as review the pros and cons to be aware of.
---
Table of contents
---
What is a market development strategy?
As we introduced above, a market development strategy helps you position your product in new markets. Every market development strategy is slightly different based on its stage cycle, competitive advantage, goals, and adoption rate in these new markets.
As a result, the touchpoints you may add to your strategy should be completely different if you are in a seed, scaling, or evolving stage.
As an idea, the great internet will always showcase the success story of Slack, Tesla, Uber, or Facebook (and their journeys are absolutely fantastic), but the same strategies and tactics would not be a fit for a startup in Eastern Europe that is still seeking investment rounds to scale the team.
There is a growth process that should be strategically covered in your market development strategy to ensure healthy business growth and scalability.
Key steps for a thriving market development plan
An ideal market development strategy will always be mission-oriented and data-driven.
While there are no ready-to-use tactics, there are documented methodologies and frameworks to help you build a market development plan, no matter what stage you're at: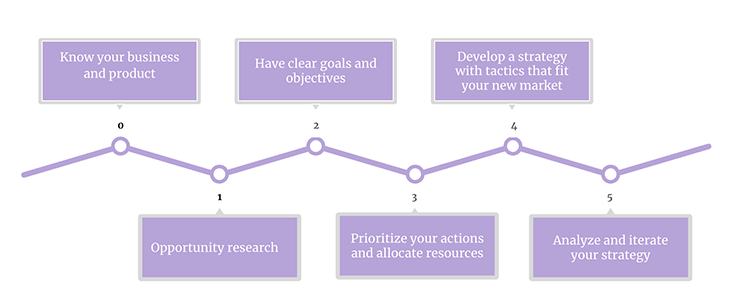 0. Know your business and product
This is technically step 0 — a prerequisite. What you measure is what you get done. And make sure you know exactly where you stand before moving to new markets.
Know your audience (through qualitative and quantitative research), identify what sets you apart, and know the main reason your customers stick with you and don't go to your competition. Know your team, financial status, and goals.
1. Opportunity research
While you have the whole world a click away, so does your competitor.
There are multiple ways to look at a new market — usually, the go-to would be the biggest pool of prospects available, but keep in mind that you are looking for the most significant opportunities, not the biggest markets.
You can always develop a market in a niche group that's willing to pay your costs to solve their pain points. The market is not really massive in terms of the number of users.
The easiest way to research your growth opportunities is to start by concatenating your data (audience segmentation, competitive advantage, or strong points you have with your goals) with new markets that you could enter. You can enter these markets based on either similar audiences or gaps in the market for solutions.
There are various ways to research your business growth opportunities and get a good overview of your market position:

Target audience identification
After carefully analyzing your ICP (ideal client profile), observing customer behavior, interviewing, and checking your analytics, a good practice is to identify who your next audience could be. Frame the pain point, motivation, demographics, mindset segmentation, and persona background in a way that can easily showcase their interest in your product.
A map of your competitive advantage
Now that you know who your next customer can be, it is time to learn where to find them and who their current choice or alternative is (your competition). This analysis will help you identify your competitive advantage, the competition's touchpoints, the marketing mix, and USP, as well as help you frame your competitive edge and strong assets.
A value-added marketing strategy
No matter if you decide to scale your product (or services) with new features within the same audience or aim for new markets, the best approach you can take is to provide value to your audience.
While a value-added marketing strategy with a mix of collaterals will differ for each business, once you identify your unique way of solving a problem, what makes you stand within the market, and what makes your audience tick, it is easy to concatenate your data and find the right tactics for you.
2. Have clear goals and objectives
Set clear expectations for yourself (and the team) to envision where you want to be in a set amount of time. This will ensure that you will focus your expansion on the markets that will fit your needs.
No matter the goals, also ensure that you will continuously adapt your product and business to the changing needs of your audience. But do that smartly.
3. Prioritize your actions and allocate resources
Be agile. While no methodology is the key to success, building and kicking off a market development strategy is essential to have the priorities aligned with your goals and your team's skills and velocity.
Having great tactics in place is vital, but the key is to keep an eye on the prize, adapt on the go, and prioritize actions according to the resources you can allocate. This will give you a predictive pace and velocity rather than a chaotic pace based on market volatility.
---
Subscribe to our product management newsletter
Get articles like this to your inbox
---
4. Develop a product and marketing strategy with tactics that fit your new market and launch
A great product and an amazing team will need some marketing to support the adoption of the new market. There are multiple ways to run a strategy. Still, suppose you plan to grow the business across other markets.
In that case, the first steps for your marketing mix and touchpoints should cover localization tokens, cultural components, behaviors, mindset segmentation, and, most importantly, clear communication to showcase how your product will bring value to their work/actions.
5. Analyze and iterate your strategy
"There is nothing like first-hand evidence; as a matter of fact, my mind is entirely made up upon the case, but still, we may as well learn all that is to be learned."
This is a Sherlock Holmes quote that lives rent-free in my mind; I find it applicable to most iterations and data-driven decisions.
Once launched on the market, you must monitor the traction and iterate according to the market and the changing needs of your users. And while data can be overwhelming, once you get the hang of it and look at all those data points as people and their behaviors, things will make much more sense.
Always analyze all the touchpoints across the customer journey for your segmented market qualitatively and quantitatively. New markets come with unique challenges. In addition to different needs, there are many things to consider: cultural differences, localization, legislation, salaries, mindset segmentation, etc. Make sure to analyze the traction you have from a product, price, competition, and usability adoption perspective, as well as the opportunities you may have given the new market.
Review mining and direct feedback
Another good tactic to analyze and iterate your market development strategy is to recurrently go through review mining, customer interview sessions, and direct feedback analysis (e.g., from the feedback forms or the customer support chats).
Continuously analyze why and how people use your product or service in each market you are in.
A simple segmentation by industry, region, service, and audience would help. Once you decide on your segments, run a review mining and read all reviews. You and your main competitors have to identify patterns and map all the customer service requests based on different metrics, usually related to needs, service, features, price, praise, and more.
And, of course, classic interviews are a great go-to if you want to check your audience's pulse and gather insights through direct conversations, surveys, and feedback forms. Make sure you ask the right questions at the right time; most people tend to ask questions that lead to the answer they want to hear.
All this data will reveal what people like the most about your service and what can be improved so you can strategically prioritize your next actions. For example, you can capitalize on what people already love about you, prioritize improvements, or launch new features. A good analysis will give you the insight to place everything in a timeline based on data-driven decisions.
The pros and cons of a market development strategy
Most founders or business managers do not know when to build a market development strategy, but the truth is you should always consider market development in your business plan (in different ways based on your maturity and resources, of course). Let's break it down.
Benefits of market development
Let's start with the obvious: scalability and revenue. Scaling to new market segments and having a powerful acquisition strategy will help your business increase revenue and market share and expand its pool of customers.
Next, there's the benefit of brand awareness. New markets come with new people to learn about your business. If you have a strategic approach, it will help you build the trust and credibility that will differentiate you on the market and help you convert easier.
Finally, you can see growth through new products, features, or services. If your market development strategy is to keep your audience and extend your business, you can explore how to iterate and shape your capabilities into new products, features, or services.
Challenges of market development
But, of course, it is not all rainbows and butterflies, and there are many challenges as well.
The first that comes to mind is having the resources to scale accordingly. A lack of resources and high complexity are risk factors to keep in mind. New markets require skills, capacity, increased costs, and time.
You'll also need to meet the market's needs. You may hit resistance to change, legal and compliance challenges, or poor research.
Finally, a big issue can be not adapting the product to the market. Having a good understanding of your new market to customize or adjust properly is hard, and strong competition that already knows the drill will add to your concerns.
Conclusion
In summary, a market development strategy is a vital part of a business trying to expand to new markets. It takes a lot of careful planning and consideration, though, and hopefully, this article was a good layout of that process. Thank you for reading!
Featured image source: IconScout
LogRocket generates product insights that lead to meaningful action
LogRocket identifies friction points in the user experience so you can make informed decisions about product and design changes that must happen to hit your goals.

With LogRocket, you can understand the scope of the issues affecting your product and prioritize the changes that need to be made. LogRocket simplifies workflows by allowing Engineering and Design teams to work from the same data as you, eliminating any confusion about what needs to be done.
Get your teams on the same page — try LogRocket today.