There are numerous UX design certificates out there, and it might be hard to distinguish gems from rubble. It's difficult to determine which UX certifications have merit and which employers would value.
In this article, we'll explore which ones are worth pursuing, who they are for, and what you'll learn along the way. We'll also discuss the sensitive part: are certificates even worth it?
Are UX certificates worth it?
Certificates and certification programs have always been a controversial topic in the industry. Some people are constantly chasing some new, shiny certification. Some strongly oppose them, claiming certifications are just worthless pieces of paper.
Both are right to some extent.
As a piece of paper, the certificate itself doesn't add much value. You won't get a promotion just because you got a new bullet point in your CV. But if pursuing a particular certification pushes you to boost your knowledge and practice new skills, then the journey itself is worth it.
As an anecdote, I'm getting 1–2 new certifications each year. But I don't brag about them, don't list them in my CV, or hang them on a wall. They give me a tangible, clear, and motivating goal to improve my knowledge and skills in a particular area.
Some people just greatly benefit from this extra incentive. Ultimately, the value isn't the certificate itself, but the journey a person took to get it.
The best UX design certificates
It's tough to define which ones are better than all the others. It depends on your context and what you currently need the most. But to surface some gems for your research, I used the following list of criteria. The certificate must be:
Unique: offer something that's not part of every other program out there
Beyond crude basics: the content should go beyond just fundamentals
Focused on practical skills: some certificates force you to learn a ton of theory that's not applicable in real life. These are truly useless ones. You won't find them here
Without further ado, here's the list.
ProductTalk: Continuous Interviewing
Continuous Interviewing is a 5-week cohort facilitated by Teresa Torres – a renowned expert in continuous discovery and the author of Continuous Discovery Habits.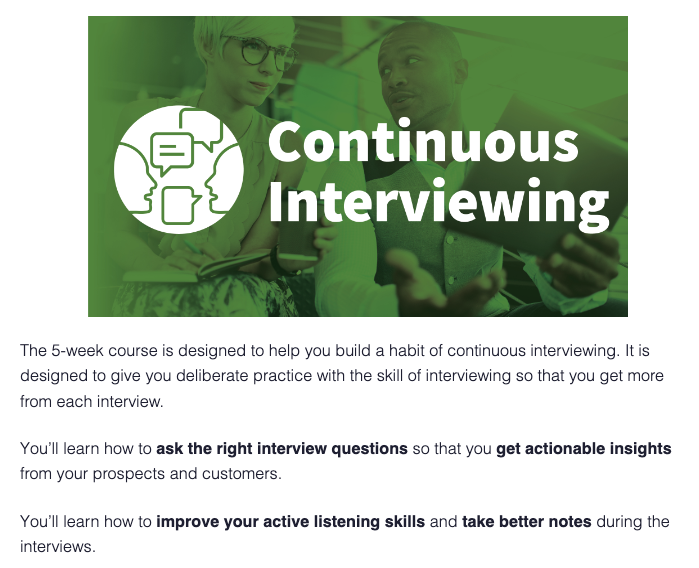 The course is led in a cohort style with five live sessions during which you'll work in groups of five. You also get access to an e-learning platform to do some preparation between sessions.
In addition to these perks, the dedicated Slack group will ensure you get all your questions and doubts answered. Live support is definitely a plus.
What you'll learn
How to ask the right interview questions and get the most out of your user interviews
Effective insights synthesis after interviews
Tactics to automate the interviewing process
How to implement continuous interviewing in your current discovery process
When to choose this course
User interviews are the core part of your job, or if you are trying to implement regular interviews in your process
Price
CXL conversion optimization program
The conversion optimization program is a 60 hour-long mini-degree offered by CXL, which provides various marketing-related courses.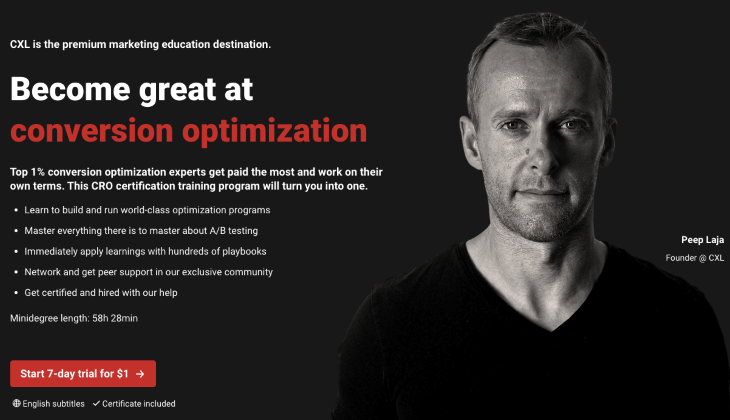 Although UX designers are not marketers, the topic of conversion rate optimization is still a relevant and valuable skill when improving current products. The program is self-paced.
What you'll learn
Deep dive into A/B testing
How to strategically approach optimization tactics
Good case practices won CRO
When to choose this course
Your day-to-day work focuses more on improving existing features and funnels rather than building new use cases from scratch
Price
$289/mo, $529/quarter, or $1499/year for all-access to CXL courses
Team discounts available
Google UX design professional
Compiling a list of UX certificates without mentioning the Google UX Design Professional Certificate is hard.

Although it's an entry-level course, its quality and various insights make it valuable to any early career UX designer (1–3 years of experience). The course goes through the whole design thinking process, starting from empathizing with users to building responsible, high-fidelity designs.
One of the key differentiators of this course is the peer-review program, meaning all your work and assignments must be reviewed and approved by other students, so no cutting corners.
What you'll learn
Design process from the beginning to the completion
Mobile and web design
Heavy focus on accessibility and inclusivity
Why "the next billion users" and focusing on third-world countries is increasingly important
When to choose
You are early in your career or considering pivoting to UX design
Price
Growth.design product psychology masterclass
There's a high chance you already know growth.design thanks to their series of animated, psychology-focused product breakdowns. They also offer a certified course on product psychology. It's self-paced, and every story-based lesson includes a summary, exercises, examples, self-assessments, challenges for you to go through, and checklists and templates for future use.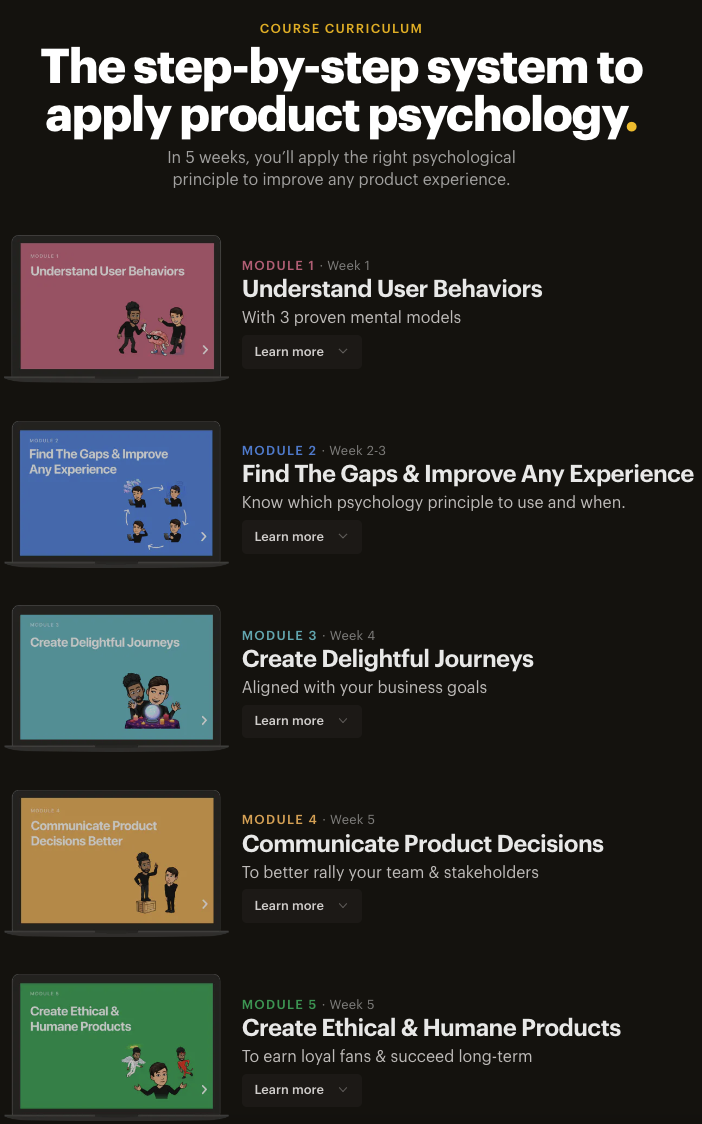 The course format is like nothing I've ever seen before. It's bound to entertain and educate.
What you'll learn
Common biases that affect both users and designers
Psychology laws to keep in mind
Deep dive into understanding users' psych levels while using the product
When to choose
Your role is heavily UX-focused (vs. heavy focus on UI), and you want to step up your game-designing flows and solutions to work with users' psychology
Price
Waitlist for the next cohort; the price to be confirmed, previously $1500
Nielsen Norman UX certification
There isn't a more powerful brand name in the UX design industry than Nielsen Norman Group. Their certification course is well known in the UX world.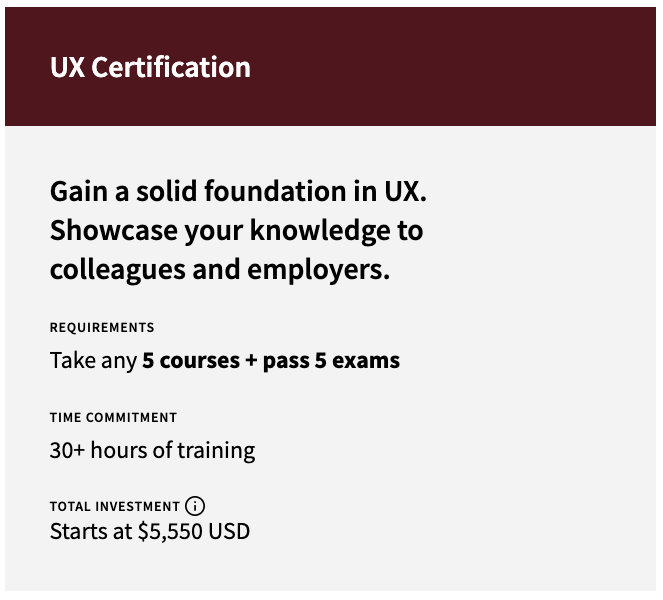 To get a certificate, you must complete 5 out of their 53 available courses. They range from fundamentals to interaction design to UX management. You can choose which area of the UX design process you want to polish the most and ignore the courses that seem least relevant to you.
Each course is a live virtual session, concluded with an online exam you have to pass within 35 days upon course completion. The main con is that each course is paid for separately, with a price tag being roughly $1000 each.
What you'll learn
Depending on the choice of courses. Anything from UX basics and ideation techniques to how to become a UX strategist.
When to choose this course
Whenever you're looking to improve your skillset, take a look at Nielsen Norman. The ability to choose from various courses makes it applicable to everyone.
Price
~$1000 per course
~$5000 to get the certificate
Reforge: User Insights for Product Decisions
Reforge provides courses on growth, delivery, and product management for tech companies.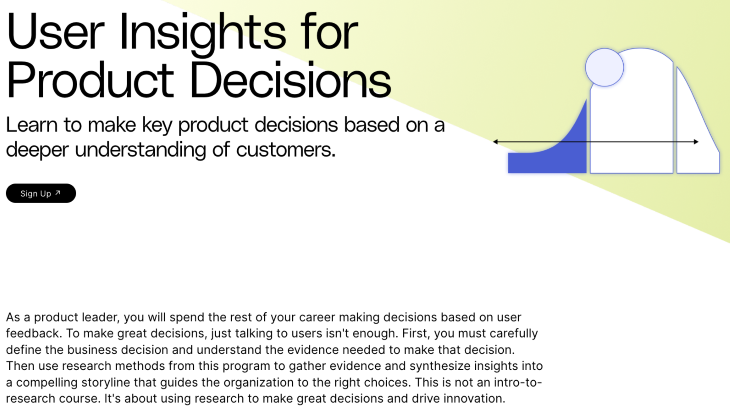 Although primarily PM-focused, some courses also apply to UX designers. One of the examples is User Insights for Product Decisions.
This course is a deep dive into qualitative research methods, giving tips on how to use them, when to use them, and how to decide which is the most optimal. Reforge courses are self-paced, with the availability to attend a live cohort for most of their programs.
What you'll learn
The concept of "decision-first design" and how to choose the best research techniques
Deep dive on conversational research
Designing great surveys
Research synthesis and decision making
When to choose this course
When you have ownership over your design process and want to ensure it's efficient and aligned with business needs
Price
$1995 per yearly access to the platform + one cohort pass
Closing Thoughts
As I mentioned at the beginning, which certificates are best fitted for you depends on your current skills, challenges, and the career path you plan to take.
Go with:
ProductTalk's Continuous Interviewing to improve your insight-gathering and interviewing skills
CXL's conversion rate optimization if you work more on improving current solutions than designing 0–1 products
Google's UX design professional to refresh your fundamental knowledge
Growth.design's product psychology masterclass to deep dive into the psychological aspect of great UX
Reforge's User Insights for Decision Making to improve how to select and design best research methods for any type of problem
NN's UX certifications if there are more niche areas you'd like to learn about
The list is just a starting point. Although you can't go wrong with any of the listed courses in terms of quality — I truly believe those are top-notch — you have to answer to yourself whether the content is what you need the most right now.
And as a friendly reminder, most people won't care how many fancy certificates you have. But they will care about everything you learned while pursuing the certification, so make sure you take your time and genuinely ingrain the syllabus of these programs. Don't be like some people who rush one certification a month just to have a bunch of papers and zero actual learnings from them.
LogRocket: Analytics that give you UX insights without the need for interviews
LogRocket lets you replay users' product experiences to visualize struggle, see issues affecting adoption, and combine qualitative and quantitative data so you can create amazing digital experiences.
See how design choices, interactions, and issues affect your users — get a demo of LogRocket today.