In business, you'll often hear the phrase, "two heads are better than one." You also probably find yourself tasked with way too much to complete on your own. With the help of your coworkers, you can improve efficiency and stay on track to achieve your goals.
Working together helps you create better outputs. Some think independent work is easier than dealing with others. Instead, believe in the team spirit and help to create synergy within your organization.
In this article, you will learn how you can build synergy within your work environment and your role in synergy.
---
Table of contents
---
What is synergy?
Synergy occurs when you work as a group to deliver more value than you would've through individual efforts. The term is used to explain team efforts and collaborative working methods.
However, synergy also comes with a specific work ethic inside organizations and it has more valuable characteristics. By working together, you want to create working synergy inside the organization from upper level to lower levels.
Working with synergy helps organizations increase individual engagement, shorten the onboarding process, and increase performance.
How does synergy work?
Creating a synergy depends on a couple of important variables that determine whether it's a team or business context.
Team synergy starts with creating the right team. Marty Cagan wrote about the importance of having the right people in his book Inspired. He explains selecting the right people to the right roles determines the team's success or failure. He also mentions how product managers increase effectiveness of the teams.
That said, having the right people isn't enough to create synergy. You still need to create a healthy work environment for the team. Roles and responsibilities should be defined properly and there should be no gaps in responsibility.
Once you set your environment and team, you have to keep synergy alive.
The role of a product manager in synergy
As a product manager, you're here for your customers and to keep everyone on the same page.
Product Managers initiate synergy between teams. Because you're the team's face to stakeholders, developers won't know the half of the members you mention. How you describe customers and business teams will shape their point of view.
A couple of years ago, I had a business problem with internal customers because they insisted on a feature request that I found unnecessary. The discussions got bigger and bigger everyday. Unfortunately, I had no choice but to add the feature.
Within the process (I was not aware) I accidentally shared some details in daily closing meetings. The development team remembered the issue after we developed it. I realized that this caused them to develop a certain resistance to a certain business team.
Destroying a well-build synergy is so easy — one word, or one excuse can erase all your efforts. Re-building is even harder than building from scratch. I had to arrange meetings, brainstorming sessions, gamification activities to repair trust between them.
Problems with synergy and trust aren't tied to a specific role, but the person who works between the teams is responsible for bridging the gap.
The culture and team spirit may differ within the organization. You should be the one who demonstrates workspace culture and encourages collaboration. You can only deliver successful products with the help of everyone.
Steps for building synergy
Building collaboration within your team is the best way to boost your product development quality.
In order to develop synergy, employ the following tactics: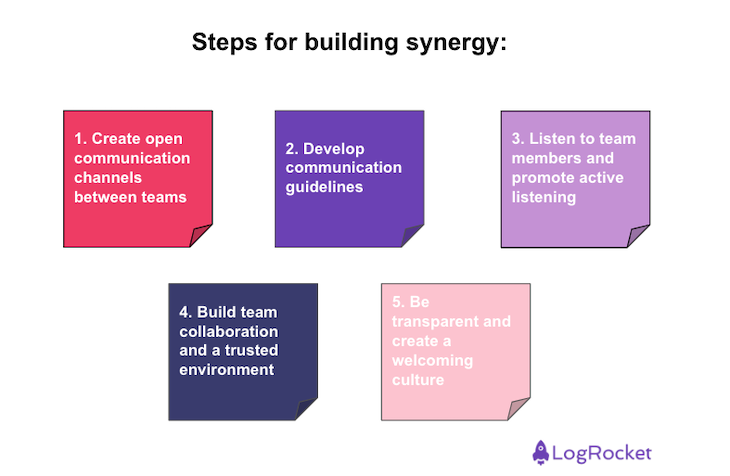 Create open communication channels between teams
Develop communication guidelines
Listen to team members and promote active listening
Build team collaboration and a trusted environment
Be transparent and create a welcoming culture
After you implement these five steps, you can say you have synergy between or within teams. Focus the majority of your attention on open communication, trust, and shared goals.
A successful product development process depends on collaboration between customer, business, and development teams.
For one of my products, I asked a user to conduct an interview for the product. I collected valuable insights and decided to work together in brainstorming activities. With the help of her colleagues, I reshaped the UI and simplified it quickly.
Before the user feedback, I was running around in circles and with the early feedback I finished the development in less time with great customer feedback. The synergy with customers also increased our internal collaboration.
Conclusion
If you want to create a synergy within your company, you need to know the characteristics of your team. After you've created the right team, you need to be as transparent as possible when sharing knowledge and your vision.
As a product manager, you may have to coach people to show value of synergy and help them overcome their personal challenges. You can also help the leaders you are working with to create a successful culture.
Featured image source: IconScout
LogRocket generates product insights that lead to meaningful action
LogRocket identifies friction points in the user experience so you can make informed decisions about product and design changes that must happen to hit your goals.

With LogRocket, you can understand the scope of the issues affecting your product and prioritize the changes that need to be made. LogRocket simplifies workflows by allowing Engineering and Design teams to work from the same data as you, eliminating any confusion about what needs to be done.
Get your teams on the same page — try LogRocket today.