Have a thoughtfully laid-out product roadmap? Great! What's next?
It's time to make things happen and turn your product vision into reality.
As a product manager, you're akin to an orchestrator, juggling multiple hats that need different levels of skill and communication — the glue that brings everything together. One of the most important things you need to get started is an action plan.
---
Table of contents
---
What is an action plan?
An action plan is like a music sheet: if you have a defined set of notes, you know exactly what the music is going to sound like.
Think of an action plan as a work breakdown structure or a guiding document that outlines all the tasks that need to be completed so you can achieve your product goals.
As the product manager, you need to be able to define the set of tasks in sequential order, considering dependencies and priorities, that will help you complete your project in the quickest, most efficient way possible.
Action plan vs. product strategy
Product strategy defines the high-level direction of what will make a product successful and a general idea on how to get there. An action plan is created from an execution standpoint and is not meant to define product strategy.
However, a good action plan should incorporate long-term product strategy that aligns with business goals. Taking action that doesn't ultimately lead to achieving your goals is simply unnecessary and a drain on your resources.
A smart action plan embraces the fact that business goals and product priorities can change along the way, making it crucial to create a plan that is flexible and allows you to pivot with minimal disruptions.
How to create an action plan in 5 steps
Creating an action plan is a logical exercise, much like putting the pieces of a jigsaw puzzle together. It's just that sometimes, you don't have the jigsaw pieces readily available, so you have to do some digging to find them first.
Whether you're using pen and paper or a more sophisticated project management tool such as Jira or Confluence, it's important to write down your action plan so you can get everyone on the same page (literally) and reference it later.
The steps to write an effective action plan are as follows:
1. Define goals
The most important step in creating an action plan is to define the goals you want to achieve through that plan. It doesn't need to be a new product feature or user experience enhancement; you can also use an action plan to improve security, reduce tech debt for your product, etc.
Use data metrics to measure project success and give it reasonable timelines. The more specific and data-driven you can get with your goals, the better. For example: Increase net-new users by X percent through the release of Y new feature by the end of Q3.
2. Build your framework and task list
Now that you have your goals defined, work backward from your goals and think about all the different pieces you need to reach them.
When dealing with so many moving parts, it's important to create a structure for them. We call this the work breakdown structure.
Basically, you break down the project into smaller, more manageable chunks of work. Then, you organize these into groups and create dependency and communication links between the groups. This forms the framework you can use to fully build out your action plan.
The framework will help you create a holistic execution plan and force you to think about the things that you possibly could have missed. No two companies are alike, so create a detailed framework that works for you and your company.
Example action plan framework
Here's an example of a simple, high-level framework for a process-oriented action plan that's ideal for software companies:
Product scoping
Gather product requirements through product analytics, customer discovery, cross-functional collaboration and internal feedback, competitive and market trends, and any other source that brings insights on the product you're building.
Consider how your product will impact existing customers, other products, teams, revenue streams, etc. within your company.
Technical scoping
Once you have the product requirements nailed down, having technical scoping discussions helps to understand technical feasibility and dependencies better.
UI/UX design
Create prototypes according to user experience and design best practices. This will help validate technical feasibility, customer usability, and alignment with product strategy.
Development
Now that we have a solid set of requirements that are ready to be developed, you can create further action plans specifically for development in collaboration with your engineering manager(s).
Together with your engineering leaders, break down the development phase into manageable chunks of work, taking into account technical dependencies and the sequential order of how the tasks must be developed.
Testing
Once your product is developed, it's time to test it.
Engage a variety of stakeholders to test your product. More feedback means more insights on how customers will perceive and use your product.
Release and review
Releasing a new product feature can be nerve-wracking. Having a release checklist to go with your action plan can be helpful.
---
Subscribe to our product management newsletter
Get articles like this to your inbox
---
Think about all the things that need to be put in place before the release, including communicating with other stakeholders (e.g., support, marketing, sales, leadership, etc.). Once you release, review customer feedback to find ways to improve your product.
Once you have your framework, create a detailed list of tasks for each stage. Support each task with a written description of what the task entails and what defines it as completed. Reach out to your team members to help you understand each task better and include any other details that you think are relevant.
3. Define roles and responsibilities
Use the framework as a point of reference to manage your resources. Resources can make or break your project, so it's important to manage them as efficiently as possible.
In collaboration with your engineering manager, establish the team that will be working on the specific project. Define the roles and responsibilities for each team member and make sure everyone understands how they are expected to contribute to the project.
Assign tasks to team members accordingly and help them understand the scope of their tasks. It's also important to collaboratively set up deadlines for tasks and then hold them accountable to those timelines.
4. Communicate and gather feedback
You now have a well-established action plan. You know who is doing what, when, and how it all leads up to achieving the goals of your action plan. But there are always caveats.
For instance, sometimes you make assumptions before validating, or you're just not aware of something that can become a problem later on. The list of potential nags is literally endless.
To avoid this, communicate your action plan to your core team, management, cross-functional stakeholders, and other team members to gather feedback. Being open to feedback is critical to learning and growing. Incorporating feedback will build your own credibility and will help evolve the process of creating action plans.
5. Update your action plan
The only constant is change. As market trends and business strategies evolve, you have to be ready to pivot. This can put a damper on your well established action plans.
Acknowledging this and building flexibility into your action plans will help you keep projects on track. Create milestones or checkpoints in your action plans; this will enable you to make informed decisions on how best to pivot when the need arises.
As things change, update your action plan and communicate at the earliest possible to the project team, as well as any other stakeholder that needs to be in the loop.
Action plan template
Now that you have a foundational understanding of what to include in an action plan and how to write one, where do you start?
This action plan template is designed to help you keep track of tasks, resources, dependencies, and progress in a single, easy-to-read and even easier-to-update spreadsheet: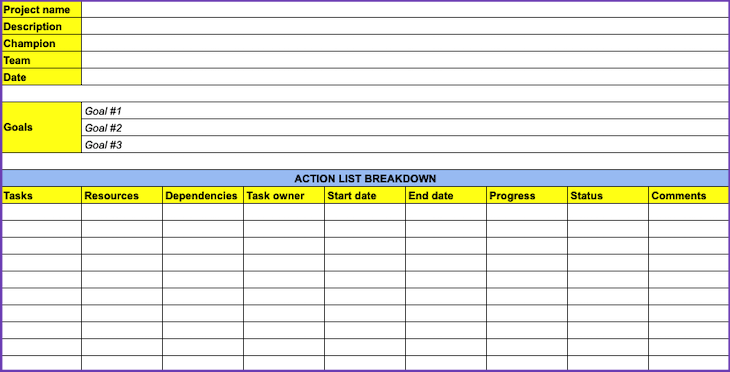 To customize the action plan template for your next project, click here and select File > Make a copy from the main menu at the top of the page.
5 tips to build an action plan that drives value
A rushed or incomplete action plan will lead to stress and frustration down the road. Here are five best practices to help you create an effective and efficient action plan:
1. Create multiple action plans
Action plans can get pretty daunting for bigger projects. Don't overwhelm yourself; use the same concept as the work breakdown structure.
Start by creating a holistic, high-level action plan that encompasses the entire project. Then, take each part of that plan and break it down further, and so on.
You can create individual action plans for each part of the high-level action plan. You may also need to do this for specific parts of the project if they have a lot of dependencies or require many people to collaborate with each other.
2. Identify milestones and critical tasks
When you have numerous tasks, you might have trouble managing them all.
Identifying milestones and critical tasks can bring visibility to the most important parts of the action plan. Make sure you have the right stakeholders in the room when discussing these.
Celebrating milestones is also a great way to improve the morale of the team.
3. Communicate early and often
No matter how detailed your action plans are, if you are not able to communicate them properly to the project team, it will be difficult to achieve your goals.
Keep the communication continuously flowing and keep an eye out for blockers. As the product manager, you need to work with the team to remove obstacles and keep things moving along.
Communication also goes a long way to align the team during change management.
4. Embrace technology
Technology can make our lives so much easier when we know how to apply it in the right ways.
There are many software tools that can help you create, document, and manage your action plans. Assess your needs and experiment with free trials to gauge which tool suits your process the best.
If paid software is too far out of the picture at the moment, you can simply use Google Sheets/Docs or Microsoft Excel/Word to create your action plan. Click here for a simple action plan template in Google Docs.
5. Continuously improve your processes
Small things that are done to better the process eventually add up and create drastic efficiencies over time.
Make time for feedback and introspection loops. Find ways to incorporate relevant feedback and distribute the knowledge. Monitor for process patterns and areas that need improvement and discuss with the team on how you can make the overall process better for everybody.
Collaborate with the team to make improvements incrementally and continuously.
Conclusion
The framework and process for creating and managing action plans can vary based on the project and team. As long as you have action plans documented and communicate regularly with relevant stakeholders, you will be able to get things done efficiently.
Remember, as the orchestrator (product manager), you need your music sheet (action plan) and your orchestra (project team) to align, and you've got yourself a fantastic concert (product)!
LogRocket generates product insights that lead to meaningful action
LogRocket identifies friction points in the user experience so you can make informed decisions about product and design changes that must happen to hit your goals.

With LogRocket, you can understand the scope of the issues affecting your product and prioritize the changes that need to be made. LogRocket simplifies workflows by allowing Engineering and Design teams to work from the same data as you, eliminating any confusion about what needs to be done.
Get your teams on the same page — try LogRocket today.