Meetings are a part of your everyday routine as a product manager. Nearly every division and function of a company relies on either a decision that needs to be made with a PM present, or information that needs to be communicated from or towards the PM's team.
As a product manager, it should come as no surprise that you are the communication and management funnel from your team to the rest of the company, as well as the primary point of contact.
Due to the proliferation of meetings in a product manager's daily schedule, it's your responsibility to ensure that meetings not only run on time and end on time, but also that outcomes are achieved, recorded, and actioned upon for future reference. This is especially the case for management meetings.
Every product manager should prepare the topics to be discussed, the questions that might be asked, and an action plan that can be used and referred to by the team in the near future.
In this article, you will learn what management meetings are, why they're so important, and how you can effectively prepare for and run a successful one.
---
Table of contents
---
What are management meetings and why are they so important?
Management meetings are a regularly occurring meeting between company leaders for a variety of different top-level reasons. The reasons can include, but are not limited to:
An update on the direction and strategy of the company as a whole
Financial performance and reports
A critical issue that involves all departments
The company's overall performance so far and whether any changes are required
These types of meetings occur regularly to foster collaboration, communication, and harmony between the different departmental leaders. Additionally, it helps reinforce the shared mission that each department shares — which should be the company goal and ultimate vision — and helps each of them better understand the role they play in contributing to that shared goal and vision.
Due to the pseudo-leadership role that PMs play in their teams, you will likely be invited to management meetings a few times a year. The main reason behind this is so you can provide an update on your team's progress.
Components of a management meeting
A management meeting differs from the other types of meetings that an organization runs because of the following three reasons: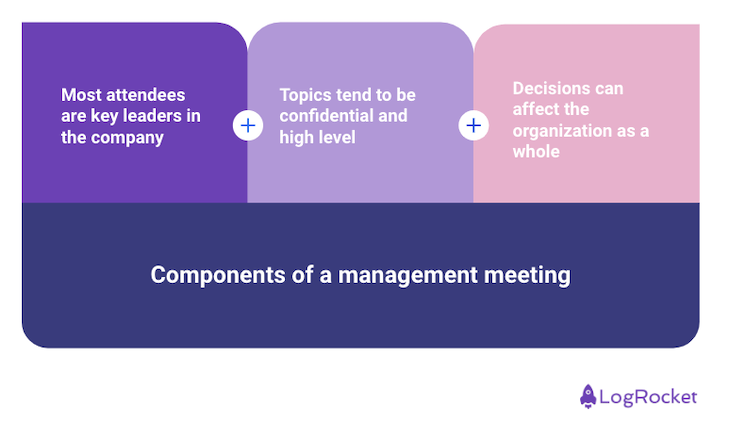 Most attendees are key leaders in the company
As the name implies, the usual attendees to a management meeting are leaders in the company. This can be anyone from a team lead, engineering manager, principal, or lead product manager.
Due to the level of experience and expertise in the room, the tone and topics of discussion will be at a different level and scale than what is usually covered in a general meeting.
Topics tend to be confidential and high level
Due to the level of leadership in these meetings, there can be a number of different topics that are covered during these meetings. These might include budgeting exercises, financial forecasts, company productivity, and more.
As you can see, these topics can be very broad and cover a multitude of different data points. Attendees in a management meeting are required to have read or understood most, if not all, of these data points beforehand in order to contribute effectively and efficiently.
Decisions can affect the organization as a whole
Any action points and decisions made during the management meeting will reverberate and cover every aspect of the organization. As such, decisions made during these meetings are not taken lightly, as they can impact employee livelihoods, the future direction and health of the company. These decisions will also determine what each team in the company should focus their work on.
Steps for preparing for a management meeting
The key to running and participating in an effective management meeting is preparation. Prior to the meeting be sure to: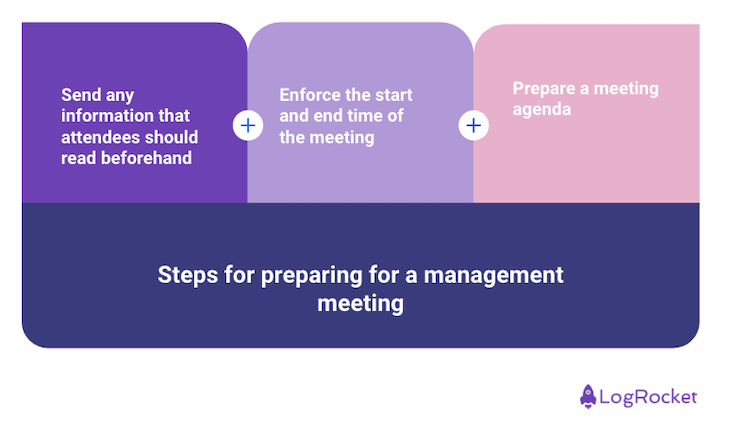 Send any information that attendees should read beforehand
Management meetings usually run for an hour or two at most. During that time period, different topics have a huge breadth and depth of information that makes it difficult to digest during the meeting itself.
Because of this, participants should be sent any important documents or reports that need to be read beforehand in order to contribute effectively to topics raised during the management meeting.
Enforce the start and end time of the meeting
Time management skills are key to any product manager job. Attending or running your own management meeting is no different. Although this might sound like a simple skill, it's easy to allow a meeting to start or end later than intended.
Remember that everyone's time is limited, including yours. Make sure that everyone's time is respected by starting on time and ending on time. When starting on time, leave five minutes past the start time to ensure all participants are in the room.
Once those five minutes are up, don't waste another second. Start the meeting, time box your discussions and end them on time so that you — and your colleagues — have time for other responsibilities.
Prepare a meeting agenda
In addition to any reports or information that need to be sent to attendees beforehand, the meeting agenda should also be circulated to everyone a few weeks before the intended date of the meeting.
The agenda should cover all the topics that will be covered, the time stamps for each topic, as well as any clearly outlined action plans.
Management meeting template
Management meeting documents should clearly present the charter, agenda, notes, and rules. You can access a free management meeting template through Google Sheets with this link. While the methods or columns can be adjusted to fit organizational requirements, it's essential to cover the following fields:
Meeting charter
The meeting charter provides a summary of the problem and the goals of the meeting. A brief explanation will suffice. It's critical to include all key members, as people will check this before adding action items:

Meeting agenda
The agenda is prepared for a single meeting, complete with meeting dates. Once a meeting concludes, the agenda should be closed, and a new section should be opened for the next one.
Topics can be grouped to maintain a clean and straightforward layout. The meeting leader can open the relevant date and discuss open topics in subsequent meetings. It's crucial to include columns for duration and presenter in the agenda section: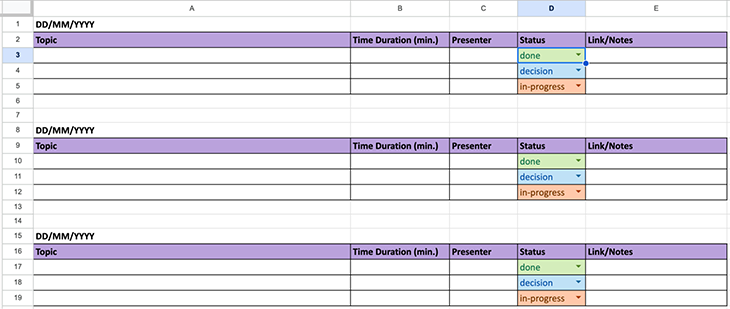 Meeting notes
The meeting leader uses this section to list action points. I personally prefer to place new items at the top, but you can also add them to the bottom. All discussed matters should be recorded with a corresponding action, responsible party, and deadline. Each note should have at least one person responsible for following up. To keep the list sorted, closed notes can be hidden:

Meeting rules
Although not mandatory, a section for meeting rules can be useful. These are common rules that apply to every meeting. If you have exceptions or newcomers, keeping these rules within the document ensures that all attendees are on the same page:

Final thoughts
Effective product management meetings are more than a luxury, they're a necessity. However, in order for you to run a successful meeting, you need to understand what goes into one and the steps you need to take in advance. Nothing happens by chance.
Make sure that you send out any important information ahead of time, enforce the start and end time, and prepare a detailed agenda. These steps will help ensure that you get the most out of the time you set aside.
If you remember these points, you'll be on your way to hosting and attending your own management meeting in no time.
Featured image source: IconScout
LogRocket generates product insights that lead to meaningful action
LogRocket identifies friction points in the user experience so you can make informed decisions about product and design changes that must happen to hit your goals.

With LogRocket, you can understand the scope of the issues affecting your product and prioritize the changes that need to be made. LogRocket simplifies workflows by allowing Engineering, Product, UX, and Design teams to work from the same data as you, eliminating any confusion about what needs to be done.
Get your teams on the same page — try LogRocket today.