When we see a successful company or a product we admire, it's easy to ask "How did they do that?" Product management strategy can look quite a bit different between companies, especially as organization goals can vary.
In this article, we'll look at a handful of companies that have adapted and/or created working models that allowed them to be successful.
If you're looking to build a more successful product culture or are just interested in how things work at other places, check out these companies with product organizations that have been successful.
---
Skip ahead:
---
Slack: Learning to pivot through continuous discovery
After going public in 2014 and quickly attracting 15,000 users, Slack has become one of the fastest-growing SaaS products in history with over 20 million daily users as of 2022. The space was incredibly crowded, especially with products like Google Hangouts Chat and other competitors. Yet, Slack continues to advance with a customer-centric product strategy that allows them to make pivots quickly when needed. So how did they do it?
Slack established a simple but challenging enterprise-focused mission: reduce email usage by 75 percent. If a user sent 2,000 messages through Slack, this was the strongest indicator of success in both customer loyalty and long-term use. With this in mind, they became customer-obsessed towards driving usage and creating an easy way to communicate and collaborate within an organization.
Through a structured collection of a firehose of user feedback and data usage, Slack was able to better respond to their customer needs through smart prioritization. For example, when they saw a 350 percent increase in Slack calls during the pandemic, they recognized the need for a Microsoft team app so their users could start or join Teams calls from Slack. Integrations have continued to be a driver of success for them, also smoothing the user adoption process and making an easier transition for larger companies.
Slack thrives by being able to pivot to customer needs through any type of environmental change. Their culture of continuous discovery and an ability to pivot has helped them build a flexible product that can respond and evolve as a leading enterprise communication tool.
What we can learn from Slack's product culture
Become customer-centric through continuous discovery — Create a structured, organized process for feedback collection to continually understand your customer needs and opportunities
Don't be afraid to pivot — Build to be flexible and adapt to all types of changes
Spotify: "The Spotify Model"
By now, most product organizations are familiar with the Spotify model of squads, a scaled agile approach, and the benefits of team autonomy in this framework. Originally described in a whitepaper in 2012, the Spotify model is as follows:
Squads — Each squad focuses on a long-term mission with a cross-functional team of around 6-12 people and delivers value to the customer through sprints
Teams — Formerly called a tribe, a more appropriate work environment term called a "team" is a collection of squads focused on a related area
Chapters — Folks of similar skills and working in the same area, such as a product management chapter of PMs
Guilds — A guild is a more organically formed group of people who share an interest and knowledge. An example couple be an "agile best practices" guild or a web accessibility guild
With this framework, many organizations can scale effectively and make effective decisions and quick improvements through autonomous teams. While it later was revealed that Spotify doesn't fully work in this model anymore, there's much to learn from their mistakes and experimentation. Like many agile methods, many organizations like Spotify gain the benefits of some version of this model in a modified way that works best for them.
What we can learn from the Spotify model
Shared mission — Fully autonomous, collaborative teams need to be clearly defined, focused on a long-term mission
Shared accountability — Cross-collaboration with guilds and chapters can help with transparency and accountability across squads.
Shared priorities — Fully autonomous teams need alignment of shared priorities defined by leadership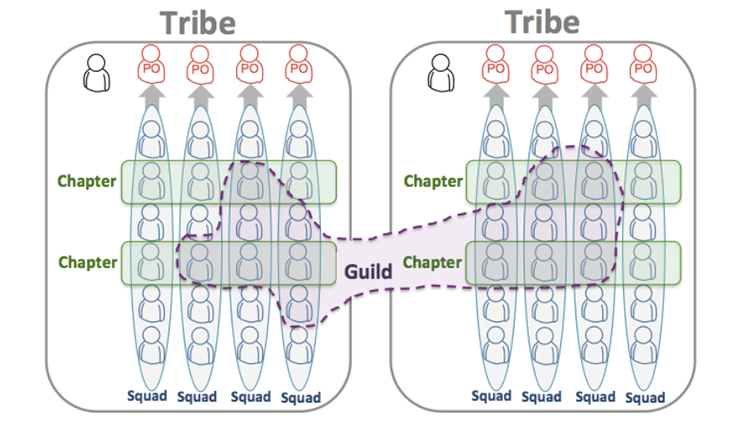 Miro: Product-led growth through a strong customer focus
In 2018, Miro was hardly a recognizable name in the design community, but fast forward a few years and it's now the number one tool used for brainstorming and ideation. In 2020, Miro experienced 473 percent growth with people who said Miro is their primary tool for brainstorming. Considering the space is pretty stacked with other tools like Sigma, Sketch, Mural, and Adobe, this is incredible growth.
What led to their success? While there are a few different factors, one of the "work from home" impacts during the pandemic led to more people needing a stronger, and more intuitive collaboration tool for their team ideation needs. Another huge factor was Miro's dedication to product-led growth through understanding their customer by continuously defining and researching their core audience. They are customer-centric while understanding that people and their needs tend to change.
Another key factor in their success is their understanding of simplicity and a fast time to value. Users need to be able to get started on the product and get value as soon as possible. Miro's "freemium model" of "value first, money later" has been incredibly successful in building product trust and value among users.
What we can learn from Miro's product-led growth mindset
Define your core audience — Building for everyone means you're building for no one. Be specific and continue defining your user
Don't underestimate the impact of supportive design — Miro provides step-by-step guides and helps users get the most out of the tools.
Netflix: Freedom and personal responsibility
Netflix emphasizes a high-performance culture of autonomy and employee freedom, with a core philosophy of "people over process." They strive to hire "dream teams" of excellent people who represent their values, some of which include strong judgment, selflessness, communication skills, integrity, and innovation to name a few. Netflix's culture of personal responsibility extends well beyond the product team and into employee perks like an open parental leave policy that states "Take care of your baby and yourself."
The product team at Netflix encourages team members to question and not be afraid to push back. Todd Yellin, former Netflix Head of product who left in 2022 after 17 years, was adamant that if your team is "overly agreeable," things might be easier in the short term but damaging to any long-term potential. Product managers have the freedom to drive the direction of an idea, and prove a hypothesis through testing. Netflix "farms for dissent" by creating open discussion forums whether through meetings or a shared Google Doc.
While building a solid level of trust is important to any successful organization, some employees reported feeling that the culture could be "ruthless, demoralizing and transparent to the point of dysfunctional."
CEO Reed Hastings's controversial "keeper test" challenges managers to ask themselves if an employee were to quit tomorrow, would you try to change their mind or be relieved if they left? If the latter, you should replace the employee now. This policy could be a potential reason for Netflix's success in hiring excellence, but how often are employees comfortable with pushing back or questioning a direction if it could put them in the crossfire of the keeper test?
What we can learn from Netflix's personal responsibility culture
Avoid letting your team be overly agreeable — Encourage and welcome open dissent in the right settings
Allow teams to learn from mistakes free from punishment — If a product manager is constantly thinking about a "keeper test," how open do you think they would be about a test that disproves their theory? Think about how some of your organizational practices might work against the culture you're trying to create
Building a culture of trust is paramount to innovation
Google: Objective key results (OKRs)
Google's objective key results method was introduced by John Doerr in 1999 when the company was only a year old and they still use this method as of 2023. OKRs are used by numerous product organizations, from startups to large organizations like Linkedin and Spotify, as a way to track measurable improvement toward desired goals that provide value to the company.
Objectives in the OKR model are the "what" you want to accomplish. They should be realistic, yet aggressive goals that provide a clear value. Key results are the "how" you'll accomplish your objectives and should measure how you'll achieve, or advance towards the objective. You might link to a metrics report and track on a regular cadence to show improvement towards your objective.
In addition to attainable and realistic OKRs, Google also uses this model to set "stretch goal" OKRs. For example, Google set a stretch goal of 20 million users at the very beginning of creating the Chrome browser. While they weren't successful in meeting the stretch goal in the first year, it did lead to a more innovative direction and allowed the team to dig deeper into understanding how to get users to switch to a new browser.
Through refining their objectives and learning throughout the process, they were able to achieve their goals. Today, Google has over a billion users that use Chrome and they attribute many of their successes to using the OKR model.
To get started on using the OKR model, Google's ReWork page provides a helpful outline, including an OKR scorecard and spreadsheet template to track progress. As with many models, it's best to use this model in the way that works best for your organization.
What we can learn from Google's OKR model
OKRs should be transparent, realistic, and attainable
"Stretch" or "moonshot" OKRs should be clearly communicated and understood that a success rate will likely be lower
Individual performance evaluation should not be measured by OKRs but considered as one way to measure team contribution to an organization.
Tracking and data reporting are needed early on for an accurate baseline — Set a regular cadence for check-ins to track the progress if key results are on target.
Facebook: The Hacker Way
In Mark Zuckerberg's 2012 letter to investors, he describes the Facebook Hacker Way as "an approach to building that involves continuous improvement and iteration." In making rapid and small incremental changes, Facebook's "Hacker Way" focuses on a fast impact while taking risks. Facebook would regularly host hackathons where teams can build prototypes for their new ideas. These Hackathons have been responsible for products like timeline, chat, and video.
Moving fast can lead to huge innovative wins, as seen in Facebook's success, but can also lead to disaster. Zuck's 2012 letter touts the common and controversial Silicon Valley mantra of "move fast and break things." However, Facebook (now Meta) has faced numerous controversies over the years, including its handling of private information and misinformation.
In 2022, Meta slightly shifted their company value of "move fast" to encourage urgency and remove barriers to better define their approach.
A successful product manager friend of mine likes to say, "We're not boiling the ocean" and encourages their team to move incrementally, rather than do everything at once. The Hacker Way is a great reminder that an iterative approach can offer an innovative impact. It's important to recognize the difference between correlations vs. causation when analyzing data and making decisions. We can also learn from Facebook's mistakes that it's incredibly important to be conscious of ethical implications and potential biases when making product decisions.
What we can learn from Facebook's Hacker Way
Taking risks can lead to reward — Moving fast and incrementally with urgency can lead to a big impact, especially in innovation
Be conscious of your decisions — Ask yourself if there are any negative impacts of biases that could be problematic? What are the implications of your decisions?
Amazon: "Working Backwards"
First described by Amazon Director Ian McAllister in a Quora article, the idea of "working backwards" is the company's approach to focusing on customer satisfaction by defining the outcome and end results first. Like reading the last chapter of a book first, you're able to visualize the final outcome. With a focus on delivering value to your customer, your team can focus on the benefits and not just the features. Additionally, you can narrow your focus to your mission and avoid common pitfalls like scope creep.
Once you have defined the desired end result, you can craft a mission statement as your guiding light. Amazon applies this method by creating one pager pitch or internal press release draft that announces the product. This is one of my personal favorite methods as it's helped me keep the outcome goals in mind throughout the process.
In 2021, the Amazon method was further described in Working Backwards: Insights, Stories, and Secrets from Inside Amazon by Colin Bryar and Bill Carr. Working backwards — and other methods like the "Correction of errors (COE)" process based on Toyota's version of the five whys — are responsible for the success of products like Prime Video, Amazon Web Services, and the Kindle.
What we can learn from working backwards like Amazon
Identify your outcome first — By visualizing the final result, you can focus on the customer value and true objectives
Visualize your end result — Limit scope by creating an internal "press release" or a draft of what the final outcome would look like
Key takeaways: What can we learn from these companies?
Perhaps the biggest takeaway is that there isn't a "one size fits all" for everyone. Some organizations will find that shades of multiple models and frameworks work best for them. You might implement OKRs and encourage product-led growth through a high focus on the customer experience.
In my experience, product and development teams try a few different frameworks, and with successful teams, we evolve to create a combination of models that work best for us and the organization. Trying to enforce a framework or set of rules that don't work for your team will only end in frustration. Think of this list as less of a guide and should be more of a charcuterie board of ideas.
After learning about how other companies have been successful, what type of product management model do you think works best for you and for your organization?
Featured image source: IconScout
LogRocket generates product insights that lead to meaningful action
LogRocket identifies friction points in the user experience so you can make informed decisions about product and design changes that must happen to hit your goals.

With LogRocket, you can understand the scope of the issues affecting your product and prioritize the changes that need to be made. LogRocket simplifies workflows by allowing Engineering and Design teams to work from the same data as you, eliminating any confusion about what needs to be done.
Get your teams on the same page — try LogRocket today.